Faculty News
Epi News: Both Shirley Beresford and Lee Ann Campbell have been appointed to four-year terms on NIH Study Sections. Shirley will serve on the Kidney, Nutrition, Obesity, and Diabetes Study Section; Lee Ann has been appointed to the Host Interactions with Bacterial Pathogens Study Section. And Susan Astley has been elected Chair of the UW Faculty Senate. She will serve as Vice Chair this year, Chair next year, and then will be Ex-Officio the following year.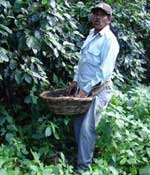 Coffee harvesting in Nicaragua
In DEOHS, Kate Stewart and Barbara Silverstein have received funding from the International Ergonomics Association to conduct research in Nicaragua on redesigning baskets used in coffee harvesting. Coffee, the world's second largest commodity, provides a livelihood for thousands of families in Central America, but the baskets used for harvesting can cause debilitating harm to the backs and shoulders of the harvesters. Families then suffer loss of income, which contributes to the impoverishment of Central American countries.