From the Dean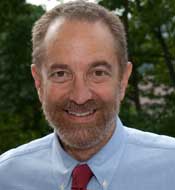 Dean Howard Frumkin
As a newly arrived dean debuting in SPH E-news, the first thing to say is THANKS. Thanks to Dean Pat Wahl, who led the School with steadfastness, grace, and vision for the last 11 years—not only for all you did for the School during that time, but for the careful, considerate transition process you planned to make my arrival seamless. Thanks to the phenomenal staff in the Dean's office, whose support before and since my arrival made for the smoothest possible landing.
And thanks to the entire School community—leaders, faculty, staff, students, alumni, and friends—whose warm welcomes, openness, and passion for our shared mission make clear what a wonderful institution this is and why I am so fortunate to be here.

One of our first shared undertakings will be strategic planning. As a School, we will look over the horizon at emerging public health challenges. We'll look in the mirror, assessing our strengths and weaknesses. We'll look outward, noting opportunities, threats, and the needs of our city, our state, our region, and the globe. We'll reckon the enormous collaborative opportunities—across the University and more broadly. We'll carefully evaluate our educational enterprise, asking if we are providing our students with everything they need to be world-class public health professionals. Through that effort, we will chart our course for the next decade.
A high priority for me will be Advancement on behalf of the School. Our revenue streams include state funds, tuition, grants and contracts, and gifts. This last category has great potential to grow. Given the moral case for public health, the handsome return that public health investments deliver, and the excellence of our School, I believe firmly that donors will want to give to us. Pat McCowan, a seasoned advancement professional, has joined our School as assistant dean for Advancement and is launching a range of activities. My fundraising goals are to improve our physical plant, to support faculty salaries, and to support student tuition and other costs.
Another high priority for me will be building our sense of community. As a School, we are scattered across Seattle in numerous locations, without a common venue in which to meet and mingle. We work hard, and our lives are extraordinarily busy. But the faculty, staff, students, and alumni of the School of Public Health are extraordinary people. We benefit, personally and professionally, from connecting with each other. Through both face-to-face and virtual means (including our strategic planning process), I hope to help deepen our sense of community.
Finally, a word about finances. The pain of this recession is perhaps most severe for poor and working class families living on the edge, but institutions such as ours are by no means immune. With state revenues not recovering as hoped, we can expect further cuts to the University budget. We are at the point of contracting as an institution (and likely as a society). In the climate change world, "contraction and convergence" has been a theme for years—contraction referring to reduced greenhouse gas emissions, and convergence referring to increased equity among nations.
This reminds us that contraction need not be a curse; in fact, if carried out intentionally and strategically, it can be an opportunity to improve our performance and to reaffirm and live our values. We will get through the financial crisis, we will be different, and we will be stronger. In the short term, we need to be nimble, flexible, creative, strategic—and more committed than ever to our core values.
I am deeply honored to be your Dean, and energized about working with you. Onward!
Howard Frumkin, Dean
UW School of Public Health
Photo by Pat McGiffert