Student News

Nicole Basta
Nicole Basta, Ph.D. candidate in epidemiology, was selected to attend the 60th Annual Lindau Nobel Laureate Meeting in July. The meeting brings together promising young researchers from around the world and Nobel laureates from the fields of physiology or medicine, physics and chemistry.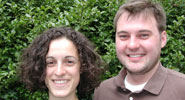 Jessica Kocian & Alexander Domesle
DEOHS master's students Alexander Domesle and Jessica Kocian won 2010 Presidential Management Fellowships. This prestigious federal service program attracts outstanding students from a variety of academic disciplines interested in pursuing careers leading and managing public policies and programs.
| | |
| --- | --- |
| Gregory Levin | Nicolas Madsen |
Gregory Levin, doctoral student in biostatistics, was selected as the 2010-11 Magnuson Scholar from our School. The University names six Magnuson Scholars each year, one from each of the six UW Health Sciences schools. The Magnuson Scholars are selected on the basis of their academic performance and their potential contributions to research in the health sciences.
In February, epidemiology student Nicolas Madsen was one of six students (out of 300 entrants) chosen to present his master's thesis work (Pre-pregnancy BMI and Congenital Heart Defects: A Population-based Study) at Cardiology 2010, a large pediatric cardiology conference, and received the 7th annual Outstanding Investigator Award.
| | |
| --- | --- |
| Alyssa Vivas | Julie Wagner |
DEOHS undergrad Alyssa Vivas was awarded a Mary Gates Research Scholarship for her research on adverse outcomes associated with placental abruption in Peruvian women.
Julie Wagner, master's student in the DEOHS Exposure Sciences Program, received a Green Steward Award from the National Oceanic and Atmospheric Administration, where she was an environmental specialist.