Breast Milk Feeding Practices of Singletons and Twins
By Nila Gregory, R.D., Nutritional Sciences Program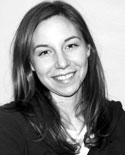 Nila Gregory
Since 1980, the birth rate of twins in the United States has nearly doubled, to a rate of 32.1 per 1,000 births, and the birth rate of triplets and higher-order multiples has increased fourfold to 153.3 per 100,000 total births.¹ These dramatic increases are mostly the result of a rise in childbearing age and the growing availability and use of fertility-enhancing therapies.
Learning how to feed their new infant(s) is a major concern for all expectant parents. Because multiple gestation infants experience higher rates of preterm birth than single infants, and lower rates of breastfeeding have been reported in the preterm population, mothers of twins may breastfeed less frequently than mothers of single infants. Currently, however, national breastfeeding data do not differentiate between singletons, twins and higher-order multiples, and little is known about how feeding practices of these groups may differ.
As a master of public health graduate student in nutritional sciences, I developed and completed a research study to determine and compare breastfeeding rates during the first year of life for single infants and sets of twins born at the University of Washington Medical Center. Results of this study showed that mothers of single infants and mothers of twins are similar in how frequently they begin breastfeeding; mothers of twins, however, do not breastfeed as many weeks and more frequently supplement breast milk with infant formula. Additionally, mothers of twins more frequently reported that premature birth, medical complications, concerns about low milk supply, and demands on their time made breastfeeding difficult.
The greatest health benefits from breast milk are realized when infants are fed only breast milk for the first six months of life and breast milk plus complementary foods for the next six months.² My findings suggest that mothers of twins have a more difficult time achieving these breastfeeding recommendations for their children than mothers of singletons. Future investigation into reasons behind the breastfeeding difficulties faced by mothers of twins could help the healthcare community better support these families in achievement of breastfeeding and the health benefits it provides.
---
1. Martin, J., Hamilton, B., Sutton, P., Ventura, S., Menacker, F., Kermeyer, S., et al. (2009). Births: Final data for 2006. Nat Vital Stat Rep , 57 (7), 1-102.
2. American Academy of Pediatrics Section on Breastfeeding. (2005). Breastfeeding and the use of human milk. Pediatrics , 115 (2), 496-506.