Student News

Brempelis
The Seattle Chapter of the ARCS Foundation has been supporting students working toward their Ph.D. in science, engineering, and medicine for over 30 years. Although the economy has resulted in fewer fellowships this year, we are pleased to congratulate new first-year Fellow Katherine Brempelis, doctoral student in the Pathobiology interdisciplinary degree program in Global Health. Katherine graduated summa cum laude from Oregon State University with a B.S. in biology, focusing on biotechnology. At the UW she plans to concentrate on infectious diseases, and her goal is to establish her own university-based research laboratory.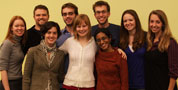 Post-Bachelor Fellows at IHME
Post-Bachelor Fellows at the Institute for Health Metrics and Evaluation responded to an invitation from Editor-in-Chief Richard Horton to write an essay for The Lancet. The Fellows' "Comment" invites a new generation of "skeptical optimists" to change the way health problems are measured. In the essay, the Fellows describe how facts about trade, the weather, and popular culture are readily available while accurate health data remain elusive. They argue that the way to solve "the irony and the urgency of this crisis in available data" is to democratize the process of gathering data, involving policymakers and field workers in low-income countries and helping them focus on raising the level of data quality.
Health Services students Tiffany Myers, Melissa Romaire, Alex Shirreffs, and Natalie Stahl received 2008-09 SPARX awards for their commitment to social justice and service to health promotions programs in the community. SPARX is an interdisciplinary Health Sciences effort designed to encourage students to consider practice in rural and urban medically under-served settings and to foster dialogue across disciplines.

Vivas

DEOHS undergrads Kendra Broadwater and Alyssa Vivas received scholarships from the Washington State Environmental Health Association.

Neitzel
The September issue of Seattle Metropolitan magazine carried a feature on research by Rick Neitzel, a doctoral student in DEOHS and Omenn Award winner. Rick's field is noise exposure, especially to mass transit systems.