Kudos to Our Faculty

Rick Gleason
DEOHS Lecturer Rick Gleason was awarded the Lifetime Safety and Health Leadership Award from the Puget Sound Safety Summit, an alliance of government, management, and labor that develops methods and solutions to improve workplace safety. The Summit's focus is on increasing educational opportunities and safety awareness and improving safety practices throughout the state.
| | |
| --- | --- |
| Amy Hagopian | Emily deRiel |
The editor of Academic Medicine, the journal of the Association of Medical Colleges, received hundreds of submissions when he called for essays on his Question of the Year: How should academic medicine contribute to peace-building efforts around the world? Amy Hagopian, Jirair Ratevosian, and Emily deRiel in the Department of Global Health submitted one of the five winning essays, "Gathering in Groups: Peace Advocacy in Health Professional Organizations." It appeared in the November 2009 issue of the journal.

Scott Meschke
Scott Meschke, assistant professor of DEOHS, was recently profiled in the Autumn 2009 issue of the Washington Sea Grant Sea Star. Scott's research focused on identifying the type of fecal coliform bacteria showing up in the northern part of Oakland Bay, with the goal of determining the bacteria's source.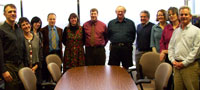 Donald Patrick and the PROMIS team
The National Institutes of Health launched the second phase of its Patient Reported Outcomes Measurement Information System (PROMIS) by awarding 15 new grants aimed at revolutionizing the way patient reported outcome tools are selected and employed in clinical research and practice. Professor of Health Services Donald Patrick, along with two other UW colleagues, received one of the grants.
| | |
| --- | --- |
| James Pfeiffer | Lianne Sheppard |
James Pfeiffer, professor of Global Health and Health Services, was honored when his December 2008 article, "What Can Critical Medical Anthropology Contribute to Global Health?", published in Medical Anthropology Quarterly, was ranked No. 12 in the Top 25 Anthrosource Articles of 2009.
Lianne Sheppard, professor of Biostatistics and DEOHS, was named the Genentech Endowed Professor in Biostatistics for July 2009–June 2010. Her selection recognizes Lianne's significant contributions to the fields of biostatistics and environmental/occupational health science, as well as air pollution epidemiology. As Genentech Professor, Lianne will continue developing a curriculum to train statisticians and biostatisticians in the responsible conduct of research.

Andy Stergachis
The Washington State Pharmacy Association's 2009 Innovative Pharmacy Practice Award went to Andy Stergachis, professor of Epidemiology, Global Health, Pharmacy and Health Services. Andy was recognized for "thinking outside the box" in fields as diverse as Internet pharmacy and emergency preparedness. And his work has gone global—he now works with the World Health Organization and in several countries to build awareness of the role of pharmacists in responding to threats to the public's health.