From the Dean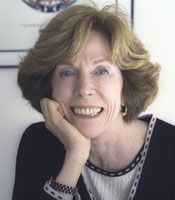 Dean Pat Wahl
The search for a new dean of our School is well under way. The search committee, chaired by Dean Marla Salmon, is busy meeting with a number of groups in the School, across campus and in the community to seek input and request nominations. The University has hired a search firm to assist with the process, and we and the Provost's Office have posted a range of information on the Web. Read more about the search.
We invite you to share your feedback and make nominations through the survey on the Dean's Search Web site, and I hope you will take a few minutes to read the Bird's Eye View of the School posted there. We put this information together for the search committee and for candidates, but we expect that others may find this snapshot (which we will continue to update) informative and useful.
Despite the challenges noted in the Bird's Eye View and the state's budget situation, we are maintaining our momentum on several fronts. Our faculty compete successfully for research grants, we're making progress in expanding our undergraduate offerings, and we look forward to the University's adoption of an activity-based budgeting system that will better support our academic activities.
Another measure of our vitality is the variety of distinguished lectures we have hosted. During the last quarter alone, our School sponsored a number of exciting events:
Our Community-Oriented Public Health Practice MPH program, through its Moments in Leadership series, featured both Mary Selecky, Secretary of the Washington State Department of Health, and, in December, Howard Koh, Assistant Secretary for Health in the U.S. Department of Health and Human Services. Listen to the podcast of Koh's presentation.
This year's Gloyd Lecture was delivered by Richard Horton, editor in chief of The Lancet, who gave a thought-provoking speech titled Two Concepts for Health: How to Radicalize the Global Response to Planetary Threats.
The School's Fall Quarter Distinguished Faculty Lecture was a joint Science in Medicine Lecture and featured Grace John-Stewart, professor of Global Health, Medicine and Epidemiology. The audio of her lecture and the accompanying slides are available at http://sph.washington.edu/podcasts/.
Our Department of Biostatistics had a busy quarter hosting both a special seminar in honor of Paula Diehr, which featured talks by many of Paula's research collaborators, and the 2009 Breslow Lecture, presented by Clarice Weinberg, Chief of the Biostatistics Branch, National Institute of Environmental Health Sciences, National Institutes of Health.
I hope you will keep an eye out for future events on the School's calendar, posted on our home page, and stay tuned for other news about the School and our deanship search. We greatly appreciate your interest and support.
Pat Wahl, Dean
UW School of Public Health
Photo by Dan Lamont