Preventing Mother-to-Child Transmission of HIV-1
By Grace John-Stewart, Professor of Epidemiology, Global Health and Medicine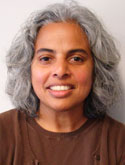 Grace John-Stewart
In 2007, almost 400,000 children around the world became infected with HIV, mainly through mother-to-child transmission. About 90% of HIV-1 infected children are in Africa where HIV/AIDS has eroded improvements in child survival. In the mid-1980s, Dr. Joan Kreiss, professor of Epidemiology and Medicine, established collaborative HIV-1 research studies on mother-to-child transmission in Kenya that our Kenya Research Group has continued to expand. In a landmark randomized trial of breast versus formula feeding, led by Drs. Ruth Nduati, (M.P.H., UW 1994) and Kreiss, we defined the risk of breastmilk HIV-1 transmission and the risk of a combined bad outcome (death or HIV-1) in babies.
We found that the risk of breastmilk HIV-1 transmission was 16% and that women who were sicker and had higher viral loads in their blood, genital tract, or breast milk were much more likely to pass HIV-1 to their infants. Over the last decade antiretroviral therapy for prevention of mother-to-child transmission (PMTCT) has expanded in Africa. We have studied PMTCT regimens for their influence on breastmilk HIV-1 transmission and also studied highly active antiretroviral therapy (HAART) in women and children. Drs. Michael Chung and Dara Lehman of the Fred Hutchinson Cancer Research Center found long-lasting effects of nevirapine on breastmilk HIV-1 levels that may partially explain this drug's effectiveness in preventing HIV-1 transmission to the child. Further studies in collaboration with Dr. Julie Overbaugh, at the Fred Hutchinson Center, aim to determine the role of drug resistance in mothers and children.
Our studies revealed several further questions: What is the best way to offer HIV-1 testing to pregnant women? What role should fathers have in research? If a woman is not breastfeeding her infant, will her friends and family assume she has HIV-1? If babies don't breastfeed, will they die from diarrhea due to poor sanitation? What is the best way to inform mothers their infant has HIV-1? Why don't the majority of infants get infected despite drinking gallons of HIV-1 infected breast milk? How do children with HIV-1 fare? When should children be informed of their HIV-1 status? Does hormonal contraception modify HIV-1 progression after pregnancy? How can we encourage HIV-1 infected women to take contraception after pregnancy? These questions have led to many further studies on HIV-1 testing during pregnancy, partner involvement, infant morbidity and mortality, immune correlates of protection, and infant and maternal HIV-1.
We are particularly interested in understanding how to efficiently translate research into practice. Dr. John Kinuthia (M.P.H., UW 2009) recently undertook an ambitious evaluation of six public sector clinics in Kenya for his M.P.H. During a six-month period, Dr. Kinuthia enrolled 2,700 mothers who were bringing in their six-week old infants for routine immunizations. He determined whether they had had previous HIV-1 testing or PMTCT interventions during their recent pregnancy.
Dr. Kinuthia found that a remarkable 92% of women had been tested for HIV-1 in pregnancy and that more than 80% of those with HIV-1 had taken either maternal or infant antiretroviral therapy. At six weeks, only about 8% of infants born to HIV-1 infected women had HIV-1 (in contrast to the expected ~20% without treatment).
These data contrast markedly with the 2008 report of the World Health Organization, in which it is estimated that only 18% of pregnant women in low- or middle-income settings receive HIV-1 testing. They also reflect a very successful Kenyan PMTCT program, with leadership from several Kenyan M.P.H. graduates from UW (Mbori-Ngacha, Nduati, Kiarie, Obimbo), who received training under the AIDS International Research and Training Program currently led by the UW's Dr. Carey Farquhar. Dr. Kinuthia also found an estimated 10% risk per year acquiring HIV-1 among previously HIV-1 uninfected women during pregnancy. This rate of HIV-1 incidence is higher than that of "high risk" cohorts of sex workers. We are therefore initiating new studies to define and prevent HIV-1 acquisition in women during pregnancy.
During the coming years we hope to expand our focus to include women and children attending maternal child health clinics who are not infected with HIV-1. It is an ideal time to leverage the benefits that PMTCT brings to all women and children attending these clinics.
---
Further reading:
Nduati R, John G, Mbori-Ngacha D, Richardson B, Overbaugh J, Mwatha A, Ndinya-Achola J, Bwayo J, Onyango FE, Hughes J, Kreiss J. Effect of breastfeeding and formula feeding on transmission of HIV-1: A randomized clinical trial. JAMA 2000;283:1167-1174.
John G, Nduati RW, Mbori-Ngacha DA, Richardson BA, Panteleeff DD, Mwatha A, Overbaugh J, Bwayo J, Ndinya-Achola JO, Kreiss JK. Correlates of mother-to-child transmission of HIV-1 in the Kenyan breastfeeding clinical trial. J Infect Dis 2001;183:206-12.
Chung M, Kiarie J, Richardson B, Lehman D, Overbaugh J, Kinuthia J, Njiri F, John-Stewart GC. Highly Active Antiretroviral Therapy (HAART) versus Zidovudine/Nevirapine Effects on Breast Milk HIV-1 RNA: A Phase II Randomized Clinical Trial. Antivir Ther. 2008;13(6):799-807.
Obimbo E, Wamalwa D, Richardson B, Mbori-Ngacha D, Overbaugh J, Emery S, Otieno P, Farquhar C, Bosire R, Lohman-Payne B, John-Stewart G. Pediatric HIV-1 in Kenya: Pattern and Correlates of Viral Load, and Association with Mortality. JAIDS 2009, 51(2):209-15.
John-Stewart GC, Mbori-Ngacha D, Lohman B, Farquhar C, Emery S, Otieno P, Obimbo E, Richardson B, Dong T, Nduati R, Overbaugh J, Rowland-Jones S. HIV-1 specific CTLs and breastmilk HIV-1 transmission. * Joint first author. J Infect Dis 2009, Mar 15;199(6):889-98.