Spotlight on Research
Can Electronic Reminders Help Providers Implement Alcohol Counseling?
by Emily C. Williams, Department of Health Services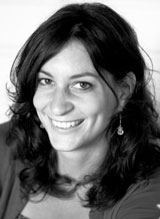 Emily Williams
Studies have demonstrated causal associations between alcohol use and more than 60 medical conditions, including liver disease, accidents and injuries, some cancers, hypertension, and violent death. Alcohol use is also associated with all-cause mortality. As a result, 4% of the global burden of disease is estimated to be attributable to unhealthy alcohol use, which ranges from drinking more than the national recommended limits—risky drinking—to meeting the diagnostic criteria for alcohol dependence. Multiple meta-analyses have confirmed that brief alcohol counseling interventions, including 5–15 minutes of advice and feedback, are effective for reducing drinking among primary care patients with unhealthy alcohol use. Based on the clinically preventable burden of unhealthy alcohol use and the cost-effectiveness of intervention, brief alcohol counseling for unhealthy drinking is ranked the 3rd highest prevention priority for U.S. adults, alongside screening for colorectal cancer and hypertension.
However, unlike colorectal cancer and hypertension screening, brief alcohol counseling is rarely offered to patients with unhealthy alcohol use, even after extensive efforts to encourage providers to offer it. It is unclear whether brief alcohol counseling interventions can be implemented in routine primary care settings and how well they will work under normal clinical circumstances.
With support from the Robert Wood Johnson Foundation (PI: Kathy Bradley, M.D., M.P.H.), my research team developed an electronic clinical reminder for alcohol counseling to encourage providers to follow up on positive alcohol screening. Using two facilities of the nationwide Veterans Affairs (VA) Health Care System as pilot sites, we looked at whether the electronic alcohol counseling clinical reminder was used by primary care providers and whether its use was associated with decreased drinking among primary care patients with unhealthy alcohol use.
Findings from these studies suggest that in the absence of other active implementation efforts or a culture of routine clinical reminder use, a clinical reminder alone is likely insufficient to get alcohol use on the busy primary care agenda. These findings will help to inform future efforts both within and outside the VA to incorporate brief alcohol counseling into routine care for patients with unhealthy alcohol use.