Student News
ARCS Fellows
For 30 years the Seattle Chapter of the ARCS Foundation has been supporting students working toward their Ph.D. in science, engineering and medicine. An ARCS Fellowship is more than an academic honor for a student; it helps departments recruit top-notch students by offering funding for three years of graduate education. Congratulations to our new first-year fellows!
Kristin Beima (Epidemiology/Public Health Genetics) earned her MPH in Epidemiology at the UW and now plans to research how genetic factors influence HIV transmission and disease progression in women and children. She has volunteered in a pediatric AIDS clinic in Africa and worked with victims of Hurricane Katrina.
Luis Crouch (Biostatistics) graduated with distinction from the University of Virginia, earning a BS in Environmental Science and a BA in Mathematics. He became interested in biostatistics through summer research opportunities and received an NIH training grant in support of his cancer epidemiology research.
| | | | |
| --- | --- | --- | --- |
| Kristin Beima | Luis Crouch | Jodie Katon | Christine Loftus |
Jodie Katon (Epidemiology) is a magna cum laude graduate of Boston University and received an MS in Epidemiology from UCLA after working four years at Amgen. Two fellowships for summer work in Mexico led to her research focus on the prevention of gestational and Type II diabetes in women and adolescents.
Christine Loftus (DEOHS) has degrees in Chemistry from Harvey Mudd College and UW and has taught chemistry while working as a freelance science writer. She also taught English at the University of Hue in Vietnam. Her goal is to earn an MPH and use her chemistry background as an advocate for less-privileged communities.
More Good News
Amanda Fretts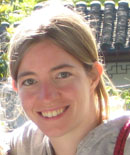 Amanda Fretts

Epidemiology doctoral student Amanda Fretts is the 2009-10 Magnuson Scholar for our School. Her dissertation research is on diet, exercise and other lifestyle choices as risk factors for Type II diabetes among Native Americans. The prestigious Magnuson Scholarship is awarded each year to one student in each of the six Health Sciences schools. The late Senator Warren G. Magnuson, in whose name the program was established, was committed to improving the nation's health through biomedical research and was instrumental in establishing the National Institutes of Health, Medicare and Medicaid during his long career in the U.S. Senate.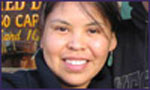 Clarita Lefthand

Clarita Lefthand, doctoral student in DEOHS, received the second annual Bullitt Environmental Prize last fall. The Bullitt Prize is awarded to an outstanding graduate student in the Pacific Northwest who has overcome a disadvantaged background and shown potential to be an environmental leader. A member of the Navajo Nation, Clarita conducted research on contamination in Tulalip Bay in ways that addressed tribal concerns. Her ongoing research, for which she also received an EPA fellowship, will attempt to increase the accuracy of predicting risks to human health from aquatic ecosystems.

In water closer to home, DEOHS students under the guidance of Scott Meschke took samples of spray from Drumheller Fountain to test for fecal coliform bacteria and E. coli. Fortunately, the waste from ducks and geese is not being aerosolized from the fountain, despite occasional odor problems.