There Will Be Treasure at the Auction!
By April White, '12
The Unified Professional Pharmacy Organizations of Washington (UPPOW) will host its annual auction on Friday, April 9. This is the 13th time that pharmacy students have hosted the popular event. This year's theme, "Pirates of the Caribbean," promises to bring out lots of colorful costumes, decorations and perhaps even some "pirate speak."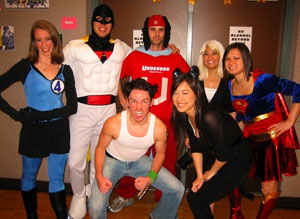 Students had fun with the superhero theme at last year's UPPOW auction.
UPPOW is a not-for-profit, student-run, umbrella organization at the School of Pharmacy that includes membership in the Washington State Pharmacy Association, American Pharmacists Association, American Society of Health-System Pharmacists and National Community Pharmacists Association.
Proceeds from the auction provide financial support for students' professional development—helping pay for their attendance at professional meetings at the state, regional and national level. These meetings give students a unique opportunity to gain exposure to current issues in pharmacy practice, to learn about and develop community services such as immunization programs, and to network with student and professional colleagues across the country.
Thanks to the funds raised at last year's auction, almost 40 students received partial reimbursement for their travel expenses to the American Pharmacists Association (APhA) Annual Meeting, the APhA-Academy of Student Pharmacists Midyear Regional Meeting, the American Society of Health-System Pharmacists Midyear Clinical Meeting and the National Community Pharmacists Association Convention.
The UPPOW event includes a silent and live auction of donated items. Past items have included scenic airplane rides, cooking lessons, weekend trips and wine from local wineries.
All students, faculty, alumni, friends, local pharmacy representatives and owners, and community members are invited. So get your costumes and accents ready for a fun-filled night of claimin' booty.
The 13th annual UPPOW auction will take place on Friday, April 9 at 7 p.m. in the South Campus Center of the University of Washington. If you are interested in attending or would like to make a donation, please contact April White or Sara Forrester.
Photo courtesy of UPPOW