Shen to Head National Pharmaceutical Group
By Melinda Young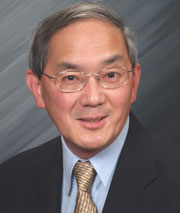 Danny Shen
Danny Shen was recently named president-elect of the American Association of Pharmaceutical Scientists (AAPS). Shen, chair of the school's Department of Pharmacy and a professor of pharmacy and pharmaceutics, is the first UW faculty member to receive this distinction.
AAPS is a nonprofit educational, scientific and scholarly organization founded in 1986. Its more than 13,000 members—who represent academia and industry—focus on a wide range of disciplines including biotechnology, drug design and discovery, pharmaceutics and drug delivery.
As the association's president-elect and later as president, Shen plans to focus on how to recruit and train the future generation of pharmaceutical scientists. It is an ever-pressing matter in the field of pharmaceutics. As science and technology evolve to meet the challenges of providing the public with safe drugs, new drug development has become a high-risk and prohibitively expensive undertaking, Shen said.
"Where we're going to get our next generation of faculty and scientists is an issue of major concern," he said. Academia could be especially hard hit by this potential dearth of qualified researchers and educators.
Shen, who holds a Ph.D. in pharmaceutics from the State University of New York (SUNY)-Buffalo, has been a faculty member in the School since 1984. Previously, he was a faculty member at the University of Kansas Medical Center and at SUNY-Buffalo.
His primary areas of research include drug transport across the blood-brain and blood-spinal cord barrier and the pharmacokinetics and pharmacodynamics of opioid analgesics.
Shen is also a member in the Clinical Research Division at Fred Hutchinson Cancer Research Center. Further, he currently chairs the Pharmaceutical Science section of the American Association for the Advancement of Science.
He accepted the position of president-elect at the AAPS annual convention in Atlanta this past November.
Danny Shen has created the Danny Shen Endowed Graduate Award in support of graduate students in the Department of Pharmaceutics. To support his fund, visit the School of Pharmacy's Office of Advancement page.
Photo courtesy UW School of Pharmacy