Recognizing a Lifetime of Advocacy
By Melinda Young
Growing up in the outskirts of Lima, Peru, during a period of economic turmoil and political violence, Luis Ramos developed a sense of the importance of community. He watched as his mother reached out to help people in need, and he saw how others helped his family in return when they struggled.
Consequently, Ramos, 30, has devoted his life to serving others. He moved to the United States when he was 14 to help his aunt take care of his grandmother. After high school, while working as a local pharmacy assistant, he became passionate about advocating for public health. And since entering the UW School of Pharmacy in 2005, he has been heavily involved in community outreach.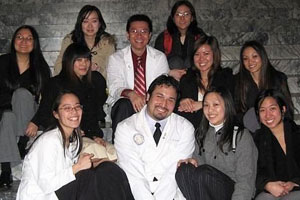 Students at Pharmacy Legislative Day in Olympia in February 2007. Ramos is in front, second from left.
So it came as no surprise to those who know Ramos that in September he received national recognition for his public-health and community-outreach efforts. The Pharm.D. candidate became the first-ever UW student to receive a Lucille & Edward R. Roybal Foundation scholarship. These scholarships recognize college students pursuing careers in public health in underserved communities—primarily with low-income and Spanish-speaking populations.
Among the many outreach efforts in which Ramos has participated, two projects that he spearheaded are especially noteworthy. In 2006, he co-created a UW World AIDS Day event series. Then in 2007, he implemented a multicultural-awareness educational program for pharmacy students.
Ramos felt compelled to help establish the World AIDS Day program because he had worked at an HIV-specialty pharmacy on Capitol Hill prior to pharmacy school.
"I loved the patients who came into the pharmacy, and I was inspired by them," he said. "But when I got to pharmacy school, I realized that many students didn't have enough exposure to issues related to HIV and AIDS. I wanted to help give them a better understanding of how to serve people who are affected by the disease."
So, Ramos and Michelle Akcar, a fellow Pharm.D. candidate, set out to create an HIV/AIDS-awareness series for UW health sciences students. They secured a grant from the UW Learning for Leadership Council to offer three educational events. Among the programs was a student-led resource fair that drew more than 300 attendees.
Building upon the success of this undertaking, Ramos decided the following year to create a multicultural-awareness program for the School of Pharmacy. He did so, he said, because he knew many students who were interested in working with Spanish speakers, but who were hesitant to do so in a pharmacy setting.
The three-hour module Ramos produced focuses on how to provide pharmacy services to Latino patients. It offers insight on cultural awareness as well as on how to translate prescriptions. The workshop was so successful that he was invited to present it this past spring to practicing pharmacists from throughout the region at the NW Pharmacy Convention in Idaho. He also presented to a packed house at the Washington State Pharmacy Association annual meeting in November.
He has taught the session to first-year pharmacy students two years in a row and plans to continue until he graduates in 2010. Eventually, Ramos hopes the program will be incorporated into the Pharm.D. curriculum.
Ramos is pleased to be among only 31 students nationwide to receive recognition from the Roybal Foundation. Edward Roybal, a California congressman for 30 years, worked on behalf of underserved populations throughout his career. The first Latino in California elected to the U.S. House of Representatives, he championed civil rights and social justice until his death in 2005. He also helped secure federal funding for education, community health programs and bilingual education. Lucille Roybal has worked on behalf of Hispanics in the Los Angeles area throughout her life.
The $5,000 scholarship Ramos received from the Roybal Foundation will help support him as he finishes his pharmacy degree. He plans to continue his community-outreach efforts throughout his life, and he hopes to pursue a master's degree in public health some day.
No matter where his future takes him, Ramos is bound to make a positive impact, according to School of Pharmacy faculty who've worked with him.
"Luis is committed to serving others: his classmates, his instructors, his school, his
pharmacy community and people in need," said Karan Dawson, director of continuous professional development. "Not only that, but he is also dependable, smart and funny. Overall, he wants to see other people do well."
Photo courtesy UW School of Pharmacy