Class Notes
1940-1949
Shirley Bridge, '45, was posthumously honored—along with her family—with the 2008 Outstanding Philanthropic Family award by the Association of Fundraising Professionals. The award honored the Bridge family's philanthropic efforts for contributing "tremendously to the Northwest community by setting a stellar example of philanthropic efforts that cross cultural, religious and racial lines." Read more …
Arthur N. Sorenson, '48, is retired and has been since 1986. He was with Parke-Davis for 39 years and was in management for most of his years there—as the regional manager in Denver, Los Angeles, Portland and Seattle. He still has a keen interest in the University and the School of Pharmacy.
On May 17, 2008, a group of self-proclaimed "young" graduates from the class of 1949 gathered at a hotel in Sea-Tac, Wash. In attendance were Norma Geil (Nielsen), Sadako Hisata (Nakashima), Helen Temte (Backman), Margaret Wilson, Lois Balent (Lemon), Ted Taniguchi and Jim Carlson. Their former leader, Dave Robinson, was unable to make it from Salt Lake City. Said Carlson: "Sixty years does seem like a long time, but it sure has gone by quickly."
1950-1959
Bill Sable, '51, is proud to still work about 35 to 40 hours per month.
1960-1969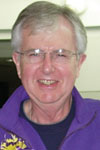 James Ramseth
In mid-2007, James Ramseth, '63, sold his almost 40-year practice to QFC. His new practice is less than 100 feet from the old. He continues to serve three generations of many families while in semi-retirement. He still loves what he does and he is still proud of this profession.
Tom Jones, '68, is living and working on Maui where he owns Haiku Pharmacy. He is a member of American Pharmacists Association and National Community Pharmacists Association, among others. He is married to Marlene Jones.
Susan Schleif, '68, is retired totally, even from skiing and windsurfing. "Wheee…it is a blast," she says.
William Beurskens, '69, retired in 2000 and moved to a farm in Mt. Vernon, Wash., where he now lives the "quiet life" and grows tulips, potatoes and corn. He is in Skagit Valley in the heart of tulip country. He does a lot of salmon fishing in Alaska. His daughter is a manager of a couple of McDonalds restaurants in Auburn, Wash.
Gayle Hudgins, '69, is still at the University of Montana as professor and director of experiential education for Skaggs School of Pharmacy. She also serves as director of the Montana Geriatric Education Center. She's looking forward to the Class of 1969's 40th reunion this fall.
1970-1979
Ed Wong, '71, '88, was named the new School of Pharmacy representative on the board of the University of Washington Foundation.

Rod Shafer
Rod Shafer, '77, stepped down as CEO of the Washington State Pharmacy Association in November after 15 years. He will be taking a new position with the California Pharmacists Association as senior vice president of professional affairs. Read more …
Thomas Woolf, '78, after working nearly 20 years in the pharmaceutical industry, has made a mid-career change to intellectual property law. He is currently working for a law firm in New York City where he is a scientific adviser. It's been quite a change living in the New York City area and dealing with the commute. The challenges of the job allow him to use the education that he obtained from the UW School of Pharmacy. He even occasionally has to use Remington's Pharmaceutical Sciences text. He has three boys, all in college in Michigan.
1990-1999
Deanna Kroetz, Ph.D. in pharmaceutics, '90, is a professor and vice chair in the Department of Biopharmaceutical Sciences in the School of Pharmacy at the University of California, San Francisco. She is leading a national effort in the Pharmacogenetics Research Network to establish drug toxicity surveillance mechanisms to identify cases of pediatric adverse drug events for the study of their genetic determinants. She was recently made an American Association of Pharmaceutical Scientists 2008 fellow.
Jennifer Crutcher (Delles), '95, and her husband, Ernest Crutcher, a 1996 graduate from the UW School of Public Health, welcomed their second son, Owen, in May 2008.
Jackuie Sherer, '98, is working as a clinical pharmacist at Holy Family Hospital in Spokane, Wash. She's currently in Intensive Care Unit/Critical Care.
2000-present
Josh Welborn, '01, and Heidi Welborn (Kidder), '03, are enjoying running their successful company, Welborn Relief Agency Inc., providing professional pharmacy staffing throughout Puget Sound and spending time with their five-year-old girl, four-year-old girl and two-year-old boy. Heidi is also managing Pharmaca Integrative Pharmacy in Madison Park. Never a dull moment in the Welborn household!
Ruolun Qiu, Ph.D. in pharmaceutics, '03, received an American Association of Pharmaceutical Scientists Outstanding Manuscript in Modeling and Simulation Award.
Jennifer Weber (Oh), '03, recently had a baby girl.
Joel Thome, '05, will be getting married to Laura Campbell on May 24, 2009, at Holy Cross Orthodox Church in Yakima. Laura will be in her fourth year of pharmacy school at WSU at the time of their wedding.
In addition to working at his family's pharmacy, Howard's Drug in Selah, Wash., he recently accepted a part-time faculty position with Pacific Northwest University of Health Sciences—a new medical school training osteopathic physicians. He is teaching biochemistry and pharmacology courses.

We want to hear from you. Let us know what's new in your life. Please e-mail us with your updates at rxalumni@uw.edu.
James Ramseth photo courtesy UW School of Pharmacy
Rod Shafer photo courtesy the Washington State Pharmacy Association