Awards and Honors
UW Pharm.D. students had a 100-percent pass rate on the North American Pharmacist Licensure Examination (NAPLEX) in the first two quarters of 2008.
Abby Frye, '10, Emily Schulze, '09, and Ellen Smith, '10, were awarded scholarships at the National Community Pharmacists Association's annual meeting.
Melissa Heilman, '09, received the first-ever UW School of Pharmacy Class of 1969 Endowed Scholarship.
Joanna Ho, '09, a pharmacy student who is also enrolled in the Plein Certificate Program in Geriatric Pharmacy, received a scholarship from the University of Washington Retirement Association.
Elaine Huang, '09, presided over student activities at the American Society of Health-System Pharmacists midyear meeting. Huang is the current chair of the student forum executive committee.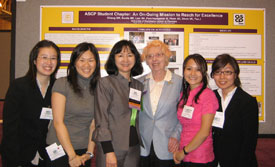 From left: Angela Lam, Jenni Yea, Senior Lecturer Annie Lam, Professor Joy Plein, Allison Pham and Jennifer Kim at the ASCP annual meeting in New Orleans in November.

Jennifer Kim, '12, Angela Lam, '10, Allison Pham, '10, and Jenni Yea, '10, presented the poster "ASCP Student Chapter: An Ongoing Mission to Reach for Excellence" at the American Society of Consultant Pharmacists 39th Annual meeting in New Orleans in November.

Jennifer Knutson, '10, candidate in the School of Pharmacy's Pharm.D and Multidisciplinary Predoctoral Clinical Research Training Program, presented a poster with Jeannine McCune, associate professor of pharmacy, at the American Colleges of Clinical Pharmacy annual meeting.

Tahnee Marginean, '10, presided as regional delegate over the American Pharmacists Association Academy of Students' midregional meeting.

Brooke VandenBrink, Ph.D. candidate in medicinal chemistry, is this year's winner of the Margaret R. Davis Medicinal Chemistry Endowed Graduate Student Award. This is the first-ever award from this fund.

Photo courtesy UW School of Pharmacy