2010 Tribal Leadership Summit
2010 Tribal Leadership Summit participants
University of Washington and area tribal leaders gathered to discuss issues of importance to indigenous communities at the fourth annual Tribal Leadership Summit at the Don James Center in Husky Stadium on Friday, May 14.
Between 15 and 20 Washington state tribes were represented at the summit including the Chehalis, Chinook, Coeur d'Alene, Cowlitz, Grand Ronde, Jamestown S'Klallam, Muckleshoot, Nisqually, Puyallup, Quinault, Shoalwater Bay, Skokomish, Steilacoom, Suquamish, Tulalip, as well as tribes from neighboring states.
The 2010 summit focused on creating further partnerships between area tribes and the UW, including a review of a National Science Foundation sponsored collaboration to advance the study and application of renewable energy in tribal communities. A workshop on that subject, hosted by the UW BioResources Integrative Graduate Education and Research Traineeship (IGERT), was held prior to the summit and its results were presented to the tribal leaders. Washington state representative John McCoy introduced the presentation.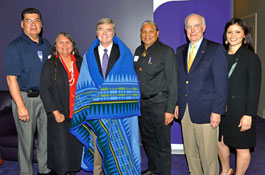 Tribal leaders with UW President Mark Emmert (third from left) and Dan Evans (second from right).
Other dignitaries in attendance included UW President Mark Emmert and Daniel J. Evans, chairman of the UW Foundation and former Washington state governor and senator. Patricia Whitefoot, president of the National Indian Education Association, gave the invocation and Leonard Forsman, chair of the Suquamish Tribe, offered a welcome. Other speakers included Paulette Jordan, tribal council for the Coeur d'Alene Tribe, Brittany Barrett, vice president of the First Nations student group, Joe Dupris, director of the UW American Indian Student Commission and Miranda Belarde-Lewis of Native-American Students in Advanced Academia.
View a photo gallery from the event.
Find more information in the 2010 Tribal Leadership Summit Resource Directory.
Photos by Dave Block