UW & Area Tribes Sign Memorandum of Understanding
UW and area tribal representatives who signed the MOU.
On Sept. 11, OMA&D hosted a Memorandum of Understanding (MOU) Commemorative Signing Event at Johnson Hall on the UW campus.
The MOU was entered into by the University of Washington and several tribal governments with the purpose of enhancing and sustaining the government-to-government relationship between participating tribes and the UW in accordance with protocol outlined in the Washington State Centennial Accord.
Through signing the MOU, UW and the signatory tribes will formalize and sustain a structure that strengthens and advances the relationships between them, and enhances the UW's educational, research and service partnerships involving tribes, American Indian students, and the broader American Indian community.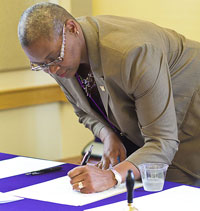 Dr. Sheila Edwards Lange
The event included welcome remarks and an invocation from Patricia Whitefoot, Native American Advisory Board Chair, as well as remarks from UW Interim President Phyllis Wise, Chairman of the Suquamish Tribe Leonard Forsman and Vice President for Minority Affairs and Vice Provost for Diversity, Sheila Edwards Lange.
Among those in attendance were elected leaders of Washington territory tribes, UW Regents and OMA&D UW Foundation Trustee Nate Miles.
Photos by Ian Gonzales