From the Vice President and Vice Provost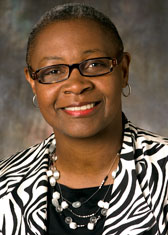 Sheila Edwards Lange
Greetings,
Welcome to the fall 2010 edition of E-news! The beginning of a new school year is always filled with anticipation and renewal, and as UW students converge on campus once again it is a great time to connect with our alumni and friends. We value this opportunity to keep you apprised of recent changes and new developments in the Office of Minority Affairs & Diversity (OMA&D). At the same time, we welcome your input. Please remember to stay in touch and submit your comments and suggestions to us.
We are thrilled to report that this past summer OMA&D was the recipient of a $1.9 million grant funded by the College Assistance Migrant Program (CAMP), while the Stipends for Training Aspiring Researchers (STAR) Program was awarded a five-year grant renewal. In addition to receiving a $2.1 million grant renewal for our existing Student Support Services (SSS) Program, we also received a new $1.1 million SSS grant that will assist students in science, technology, engineering and mathematics (STEM) fields. These programs will continue to allow OMA&D to better serve our students and I applaud the efforts of our staff members who made this possible.
There are several exciting updates relating to OMA&D web sites and social media platforms highlighted by the upcoming unveiling of the new Diversity web page. As a "portal," this page will give Diversity larger visibility on the UW web site and provide broader access to diversity related services and resources throughout campus. The OMA&D web page has also undergone a facelift to reflect the new UW design standards. In addition, OMA&D has a new Facebook page which is a great way to remain connected to the latest department news and event information. Be sure to take a look at each of these links above.
The most significant transitions occurring on campus include the search for a new president due to President Mark Emmert's departure on Oct. 1 and the Husky Union Building (HUB) remodel which began in July. We are also working hard to spread the word about the new earlier freshman admission application deadline for the Seattle campus. The deadline for students wishing to apply for autumn quarter 2011 has been moved to Dec. 15. Learn more about the new deadline in our story.
With the HUB temporarily closed, Celebration, our annual banquet and scholarship fundraiser, will be moving to an off-campus location for the next two years. We are pleased to announce that Celebration 2011 will be held at the Bell Harbor International Conference Center on Thursday, May 5. We were very fortunate to have some outstanding alumni give back in significant roles with the event last May. Program emcees Ahndrea Blue, '92, and Cameron Wong, '93, as well as Angela King, '95, and Nate Miles, '82, helped make Celebration 2010 an overwhelming success. We look forward to the 41st annual event this spring and hope you can join us there.
We are just two weeks away from Homecoming and OMA&D's second annual The Weekend, to be held Oct. 15-16. If you have not done so already, be sure to register for any or all of the events associated with these festivities, including the big football game between the Huskies and Oregon State. More than 400 alumni and friends of diversity took part in last year's activities and we look forward to seeing you all again in October.
Speaking of celebrations, our cultural graduation ceremonies were well attended by family and friends this past June. We are extremely proud of our most recent graduates and wish them well as they embark on their new journeys.
As always, the generosity of our alumni and friends make it possible for OMA&D to provide opportunity and access to students. With an increasing number of families facing challenges in this difficult economy, scholarship support is more important than ever and we are very grateful to those who give to our programs.
Thank you for your continued support.
Sincerely,
Sheila Edwards Lange
Vice President for Minority Affairs
Vice Provost for Diversity