Recent Honors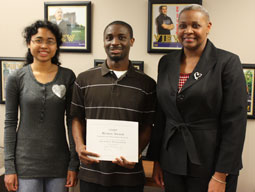 From left: Evangeline Drink, Ike Nwaneshiudu and Sheila Edwards Lange
Ike Nwaneshiudu, a doctoral student and research assistant in the UW chemical engineering department, was presented the 2010 Louis Stokes Alliance for Minority Participation (LSAMP) Outstanding Engineering Mentor award by Vice President for Minority Affairs and Vice Provost for Diversity Sheila Edwards Lange in June. Nwaneshiudu was nominated by undergraduate Evangeline Drink whom he mentored during her participation in a chemical engineering research group and preparation for the Undergraduate Research Symposium. Award nominations for the LSAMP Outstanding Engineering Mentor Award were judged by various faculty and staff members within the College of Engineering. LSAMP supports educators and advocates who increase underrepresented minority participation in science, technology, engineering and mathematics (STEM) majors.
University of Washington Yakima Valley GEAR UP parent Oscar Hernandez received the 2010 National Council for Community and Education Partnerships GEAR UP Parent Leadership Award in Washington, D.C., July 20. In its fourth year, the award aims to highlight parents who are true leaders in the GEAR UP community by helping to increase the number of parents and families involved in the program, promote the program in the community, lead the charge to create a college-going culture in the community and lead school improvements or reform. Gaining Early Awareness and Readiness for Undergraduate Programs (GEAR UP) is a grant program designed to increase the number of low-income students who are prepared to enter and succeed in postsecondary education.
The House of Knowledge Planning Advisory Committee (HOKPAC) will receive the Dr. Samuel E. Kelly Award at the 2010 Multicultural Alumni Partnership (MAP) Bridging the Gap Breakfast on Oct. 16. The breakfast will be held in the Cascade Room at Haggett Hall on the UW campus from 8-10 a.m. The award was created to recognize Dr. Kelly's special contributions to the promotion of diversity at the University of Washington. Dr. Kelly was the founding vice president for minority affairs in 1970. HOKPAC is heading up the efforts to build a longhouse-style facility on UW's Seattle campus with the mission of providing a multiservice learning and gathering space for Native American students, faculty and staff, and others of various cultures to come together in a supporting and welcoming environment.