Exterior view of the new House of Knowledge longhouse
Pre-Design Complete for House of Knowledge Facility
The dream of building a House of Knowledge (HOK) longhouse on the University of Washington campus continues to move closer to fruition. Recent developments in the project include the finalization of the pre-design phase, as well as the completion of new architectural renderings and models. Construction on the approximately 19,000-square foot facility is projected to begin in 2013.
The House of Knowledge longhouse will provide a multiservice learning and gathering space for Native American students, faculty, staff, as well as others from various cultures and communities to come together in a supportive and welcoming environment. The facility will include a large central gathering space, meeting and classroom space, student lounge, computer and resource room, kitchen and office space.
The recently completed pre-design phase was handled by the project's Seattle-based architecture firm, Jones & Jones, in consultation with community members and the HOK Planning Advisory Committee, as well as the working group committee. That phase provided confirmation on the building program and gave a better sense of cost estimates. Images and models have also been produced to aid in fundraising and other advocacy purposes.
"Receiving the images of the longhouse from the architect has helped to confirm that this building is moving forward and that this dream will soon become realized," David Iyall, OMA&D assistant vice president for advancement said. "We have a lot of hard work to do yet, but it's rewarding to get a more tangible sense of what the project will become."
Incorporated into the construction process for the longhouse will be traditional Native American ceremonies as advised by the elders committee. A site blessing took place in April, 2009 and future ceremonies slated to occur include a naming ceremony, a log blessing, a ground blessing/sod turning and a house cleansing/opening ceremony.
Fundraising for the longhouse continues at various levels as well. The University is in the process of submitting materials in support of the next state funding request in an effort to secure funding for this project. A fundraising event was also held this past June at the home of UW longhouse committee member Marty Sands. The intimate gathering attended by approximately 40 people gave potential donors an opportunity to visit with architect JohnPaul Jones and Vice President for Minority Affairs and Vice Provost for Diversity Sheila Edwards Lange. A number of individual donors have made gifts to support the design and structure of the longhouse. The tribal community has also stepped forward in supporting the project. Those tribes include Jamestown S'Klallam, Suquamish, Tulalip, Muckleshoot and the Yakama Nation. The committee expects other tribes will step forward in the future as well.
The efforts made toward building a longhouse facility at UW have already been applauded. The House of Knowledge Planning Advisory Committee (HOKPAC) will receive the Dr. Samuel E. Kelly Award at the 2010 Multicultural Alumni Partnership (MAP) Bridging the Gap Breakfast on Oct. 16, an event that honors leaders in diversity.
"One of the goals in creating this facility is not to just construct a building, but to enhance our relationships and to become a more welcoming place for Native American students and Native American people," Iyall said. "We want to become an institution that does a better job of serving the needs of the tribes. By going through this collaborative planning and design process, we have already made substantial gains in those relationships and we've made great progress in terms of including the voices of the tribes in what we do here at UW."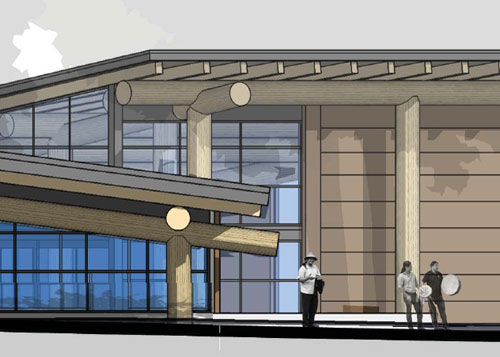 Exterior view of the UW House of Knowledge longhouse