2010 Diversity Networking Reception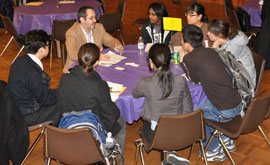 Alumni hosted tables and offered students career insights during January's networking event.
The notion of giving back was very apparent when more than 40 culturally diverse UW alumni, staff and friends volunteered to serve as table hosts for the UW Diversity Networking Reception at the HUB West Ballroom on Jan. 27. The event, hosted by the UW Alumni Association and the Office of Minority Affairs and Diversity, served as a career networking opportunity for students in the UW Mentor Program and other campus diversity programs.
More than 150 students participated in the reception which offered a relaxed setting for them to learn about possible fields of interest and make connections with UW alumni. Table hosts came from a wide range of organizations such as Starbucks, Boeing and the Washington Education Association.
Read more about student and alumni career networking opportunities.
Photos by Steve Woodard