The Power of Giving Back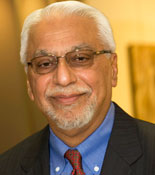 Jeet Bindra, '70
Early in his chemical engineering career at Chevron Corporation, Jeet Bindra was called into a vice president's office. He knew his colleagues at the time were impressed by his technical abilities and his ability to manage pieces of the business, but was not quite sure why the meeting was called. The conversation took a turn Bindra was not prepared for. He was told that he should be realistic about his ambitions.
"If you look different, you speak with an accent and you dress differently, you will be lucky to retire in middle management at Chevron," Bindra recently recalled the words he heard that day in 1979.
Using that meeting as motivation, he worked hard with mentors, rose to each challenge and even went to an accent improvement class in the evenings. He eventually became the first Indian to hold a chief executive's position in the U.S. oil industry. Bindra, a native of Northern India who received his master's degree in chemical engineering from UW in 1970, recently retired last July as president of Global Manufacturing at Chevron, a position in which he oversaw 20 refineries around the world. He held a number of senior executive positions during his career, including a two-year stint as the managing director and chief executive officer at Caltex Australia Limited from 2002-04.
On top of all he has achieved in the corporate world, Bindra, even in retirement, makes it a priority to give back to his field, his communities both local and abroad, and the UW. He is on the board of directors for companies in India, Australia and the U.S. Over the years he has spoken at events for associations including the National Society of Black Engineers. He worked extensively with recruiting minorities while at Chevron and is the only non-Hispanic given lifetime membership with the Society of Hispanic Professional Engineers.
Bindra recently renovated his high school back in India, replacing mud walls and floors with concrete. He also had a new drainage system put in and replaced broken windows. Bindra and his wife contribute back to UW each year as well, and have established a fully endowed fellowship in the UW Department of Chemical Engineering. Bindra also will soon rejoin the Visiting Committee with the Department of Chemical Engineering after serving with the group for eight years before moving to Australia. Not to mention, he is the founding chairman of SAALT (South Asians Leading Together), a nonprofit organization that advocates for issues related to minority Americans and South Asian Americans.
Bindra believes that because of all that he has been through, it is that much more important to give back. "As minorities, being blessed and fortunate enough to have climbed the corporate ladder or in any arena, it is not only our responsibility but our obligation to make sure that we mentor those who are coming behind. We need to do that, every one of us needs to do that."
---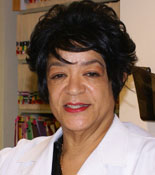 Dr. Anita Connell, '68, '75, '80
The notion of giving back was instilled in the heart of Dr. Anita (Johnson) Connell at a very young age. Growing up in a household of six children in Seattle, her parents made sure she understood its significance.
"I was raised with the concept of being an African American that I owed something to the community because it was on the backs of other people that opportunity had been made available to me," she said. "Even though I worked hard on my own, my parents always instilled the idea that someone went before me and made sacrifices so that my hard work allowed me to take advantage of an opportunity but I didn't create the opportunity. I think everyone owes something to their community. Whether it's minority or majority, I think you have to decide how to give back."
Dr. Connell, who completed her undergraduate degree ('68), medical school ('75) and residency program ('80) at the University Washington, has undoubtedly made her parents proud, giving back to her community both professionally and philanthropically. Since 1982, Dr. Connell has run her own private OB/GYN practice in Seattle's First Hill neighborhood. She delivered babies until 2004 and now focuses primarily on surgery and office gynecology at her Johnson Connell Clinic for Women in the Nordstrom Tower. Among the highlights of her very successful career was delivering the youngest son and grandson of one of her UW mentors and friends, Dr. Samuel Kelly.
On top of juggling a solo practice and raising her family, Dr. Connell makes sure to always remain accessible to the community. She has been a keynote speaker for various events, raising awareness of women's health issues and education. She has also participated in church programs and volunteered at various high school career days. As a mentor, Dr. Connell has always trained medical assistants in her office and is available to talk to students interested in the science and medicine fields. In addition to serving as a member of various professional associations, her most recent community involvement has focused on working with the Seattle chapter of Links, Inc., a predominantly African-American women's organization that gives back to the community in many ways.
Dr. Connell may give back in several capacities, but she has also helped pave the way for those coming after. While an undergraduate student at UW in the late 1960's, she was among a group of African-American and minority students who chartered the first Black Student Union and in doing so, helped build a springboard for the development of what is now the Office of Minority Affairs and Diversity. When she began her studies at the UW Medical School she was part of the largest class of women to have ever been accepted to the program, but was one of just three African-American females. She also overcame the challenges of opening up her own practice during a time when few female doctors even practiced in the Seattle area.
Despite all the challenges she faced, Dr. Connell continues to rise to the occasion and serve as an outstanding role model. "Sometimes I feel guilty as to if I was not there enough for my children," she reflected. "But they assure me that I was an inspiration to them."
Read more about Dr. Anita Connell
---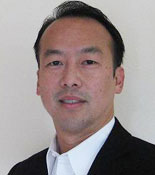 Derrick Mar, '85
For a young Derrick Mar, all it took was a high school field trip to the Pacific Science Center to solidify his future career goals. "There was a computer there that said 'Hello Derrick.' From there I looked into computer science and decided that's what I wanted to do," he recalls.
Now the chief technology officer at Varolii Corp. in Seattle and boasting a 20-plus year career in the technology industry, it is evident that field trip was pretty significant for Mar. After graduating with the President's Achievement Award in computer science from UW in 1985, he went on to earn his MBA from the University of California at Berkeley in 1991 and establish an outstanding career. Mar has led technical and product strategies for organizations such as Microsoft, FrontBridge Technologies, Entercept Security Technologies, IBM, TIBCO and Reuters.
When he looks back at what propelled him to success, he starts with his undergraduate experience at UW. Knowing he was going to be challenged by a difficult major, Mar used the Office of Minority Affairs and Diversity (OMA&D) Instructional Center to stay ahead of the game as a freshman. Mar greatly benefited from mentoring he received, especially in terms of the guidance he was given for potential careers in computer science and what working in that particular field might be like. Toward the end of his undergraduate work, Mar then became a tutor himself, mentoring other young freshmen who were in his same situation. Even as a college student he was already able to recognize the power of giving back.
After his graduate work at Cal, Mar remained in the Bay Area for quite a few years, but returned to Seattle in 2005. He has always wanted to continue to give back to UW, and is once again making it a priority. Mar was a career mentor for the OMA&D and UW Alumni Association's Diversity Networking Reception on Jan. 27.
"Going back to UW and being able to talk to students who are deciding what they want to do with their career was rewarding because it's a way to give back to the community," Mar said. "I could see the spark in the student's eye when I talked about my personal experience and what I went through in my career to get to where I am now. I enjoy that because I was able to show them what is possible. I went through a lot of tough times because of my personal situations and now looking back I say, wow, I did that. I couldn't have done that without the support from the programs and the people at UW. I wish more folks could get the support I got when I was there and that is the reason I want to contribute my time when the opportunities arise."