Champions of Diversity Honored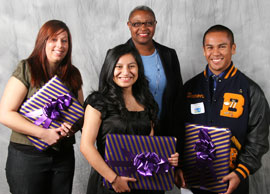 Dr. Lange and the UW COD Scholarship winners
One hundred area high school students were honored at the 2009 Champions of Diversity Awards Ceremony on Dec. 1 at Skagit Valley College. Among the 500 community members in attendance was UW Vice President for Minority Affairs and Vice Provost for Diversity Sheila Edwards Lange who presented the UW Champions of Diversity Scholarship awards. The event recognized young adults who contribute to diversity on their school campuses and in their local communities.
The Champions of Diversity (COD) award is designed to honor students from grades 9 through 12 from Skagit, San Juan and Island counties high schools.
In addition to being honored with the prestigious COD award, 47 seniors were presented scholarships offered by local businesses and organizations, as well as colleges and universities such as Central Washington University, Eastern Washington University, The Evergreen State College, Skagit Valley College, University of Washington, Washington State University, Western Washington University and various other higher education institutions.
The UW Champions of Diversity Scholarship winners were Damon Acoba from Burlington-Edison High School, Allysa Garza from Mount Vernon High School and Amanda Sandate also from Mount Vernon High School. Acoba, a senior, is the ASB president at BEHS and has volunteered with the Special Olympics, Interact Burlington and Rotary International. He plans to major in civil engineering. Garza, a senior on the honor roll and a volleyball student athlete, has been an AVID senator, a member of the Key Club and band, and attended the North Cascades Wild 12-Day Leadership trip. She plans to major in early education. Sandate, a senior, is a volunteer at Skagit Valley Hospital, tutors young children and was a LINK leader to help orient incoming freshmen to the school environment. Determined to be the first in her family to go to college, she plans to major in pre-med/radiology.
Photo courtesy of Skagit Valley College