Alumni Remix 2009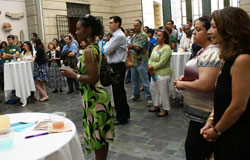 Alumni Remix at Seattle Asian Art Museum
In June, 250 University of Washington alumni came together for the first annual Office of Minority Affairs and Diversity Alumni Remix at the Seattle Asian Art Museum.
Among those who attended were 14 of the "40 to Watch" featured in the spring issue of Viewpoints, the University's alumni diversity magazine.
If you missed the Alumni Remix, be sure to save the date for our next alumni event, The Weekend, a homecoming celebration for alumni of color and supporters of diversity, Oct. 23-25.
Photo by Jose Ramirez