Dr. Michelle Habell-Pallán to be Honored at MAP Breakfast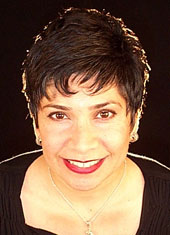 Dr. Michelle Habell-Pallán
Vice President for Minority Affairs and Vice Provost for Diversity Sheila Edwards Lange will present the 2009 Diversity Award for Community Building to Dr. Michelle Habell-Pallán, Associate Professor in the Women Studies Department and an adjunct in the School of Music and Department of Communication. She served as guest curator of the award-winning traveling exhibit American Sabor: U.S. Latinos in Popular Music, a collaboration between the University of Washington and the Experience Music Project Museum. Habell-Pallán has received multiple awards for her innovative research and writing on the politics of representation and cultural politics of "independent" popular culture, performance art, spoken word and music. She currently serves on the advisory board of American Music Partnership, Seattle (AMPS).
The Multicultural Alumni Partnership (MAP) Bridging the Gap Breakfast will take place on Saturday, Oct. 24 in the Husky Union Building (HUB) Ballroom on the UW Seattle campus. The event, hosted by the UWAA Multicultural Alumni Partnership and the OMA&D, raises money for scholarships for UW students from underrepresented communities and financially disadvantaged families.
Learn more about the 2009 MAP Bridging the Gap Breakfast award recipients.