Washington MESA Now Part of OMA&D
The Office of Minority Affairs and Diversity (OMA&D) welcomes Washington State Mathematics Engineering Science Achievement (MESA) to the family.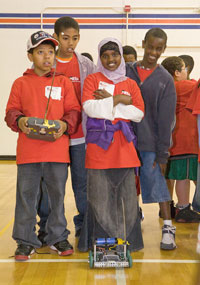 Young Washington MESA students
Formally started in 1982, Washington State MESA provides enriching opportunities in mathematics, engineering and science for K-12 underrepresented and minority students, including: African Americans, Native Americans, Latinos, Pacific Islanders and women. Serving 4,500 students throughout the state, MESA embodies the mission of the OMA&D and is complementary to the many programs that the OMA&D offers. The state of Washington leads the nation in available jobs for people with baccalaureate degrees in science and engineering, but is ranked 37th when it comes to the number of graduates in these disciplines. MESA will help build the pipeline to the University of Washington and other four-year institutions for underrepresented students and help bridge the gap between these two statistics.
Over a period of 27 years, MESA has evolved froma single center in Seattle, serving 80 high school students, to seven regional centers and a statewide office, serving 4,500 K-12 students in 92 schools. Regional MESA programs include: Seattle, Southwest Washington, Spokane, Tacoma/South Puget Sound and Yakima Valley/Tri-Cities MESA Centers, all reporting to Washington State MESA, directed by James Dorsey. First Nations MESA programs primarily serve Native American students in the Yakima Valley and the Kitsap Peninsula.
This fall, with a $2.5 million grant from the National Science Foundation, Washington MESA launched the MESA Community College Program (MCCP). MCCP provides rigorous science, engineering and math enrichment to African American, Native American, Latino and Pacific Islanders community college students. The goal is for students to excel academically and transfer successfully into four-year institutions as STEM majors. MCCP has the support of industry partners, who provide professional skills development and firsthand knowledge about career options, scholarships and internships.
Learn more about MESA.