From the Vice President and Vice Provost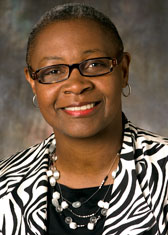 Sheila Edwards Lange
Greetings alumni and friends,
Welcome to the inaugural issue of the UW Office of Minority Affairs and Diversity E-newsletter. Our mission is to ensure the access and academic success of a diverse student population through the advancement of knowledge, academic excellence and diversity. We also work to ensure that the UW recruits, promotes and retains an excellent and diverse faculty. Additionally, we explore opportunities that allow us to collaborate with community partners, alumni and friends.
The OMA&D E-newsletter is a biannual publication produced in collaboration with the UW Alumni Association. The E-newsletter will provide you with updates on campus projects and programs that have an impact on diversity. There will be sections that include event announcements, photos from past events, information about OMA&D programs and stories about our community partnerships. We will profile and highlight accomplishments of OMA&D alumni, students and staff, as well as faculty whose research and works embrace the concept of diversity.
Many of you know that we celebrated 40 years of diversity on the UW campus on May 20, 2008. To commemorate the significant impact the UW and the OMA&D have had on the community, we are pleased to announce that the March edition of Viewpoints (the UW Diversity alumni magazine) will feature OMA&D's "40 under 40." These outstanding alumni represent a diverse group of emerging leaders who utilized OMA&D services during their college tenure. Check out our "sneak peek." In this issue we highlight the UW House of Knowledge initiative, the Samuel E. Kelly Distinguished Faculty Lecture and Celebration 2009. Finally, we are asking you to complete our "Alumni Connect" survey so that we can better serve you and connect you with current students and other alumni.
I thank you for your continued support and commitment to our mission. As a valued alumni, friend or supporter, it is our hope that you will see the E-newsletter as a vehicle for remaining connected and engaged in the life of the University. We hope that you will keep us informed about the great and inspiring things you do that demonstrate how higher education has affected your life.
Finally, please let us know what you think about the topics and stories that we cover in the E- newsletter. Your feedback will help us better serve your needs and interests. Submit comments and suggestions to: cpromad@u.washington.edu.
Sincerely,
Sheila Edwards Lange,
Vice President and Vice Provost
Office of Minority Affairs and Diversity