News in Brief

Former students celebrate Jeanne Benoliel's accomplishments

.
Jeanne Benoliel Celebrated
A group of SoN alumni honored Professor Emeritus Jeanne Benoliel in August with a dinner celebration held in her honor at the University House in Issaquah. Seventeen SoN grads honored Benoliel, who led a program beginning in the 1980s that prepared graduate students to work with patients with advanced cancer. Benoliel noted that the best part of the celebration was seeing the career trajectories of her former students, who hold positions across the country assisting cancer patients. Attendees included: Kit Bakke, Julie Rozell Bucher, Barbara Burns-McGrath, Terry Denton, Becky Hunter-Dorcas, Louise Granger, Anne Hughes, Glee Jones, Ruth McCorkle, Patty Mulhern, Debbie Noble-Irons, Peg Rutchik, Janet Schaefer, Mary Ellen Shands, Mary Jo Tornberg, Liz White and Ellen Zahlis.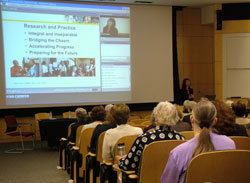 Patricia Grady presents to an audience of nurse staff, faculty and nursing professionals at UW.
Dr. Patricia Grady Gives Lecture on
Link Between Research and Practice
Dr. Patricia Grady, the director of the National Institute for Nursing Research, in September presented on the importance of making the connection between research and practice and how team science is integral in this approach. Grady's lecture, Research and Practice: A Translational Imperative, emphasized the importance of bridging the gap between nursing research and its application. "Research and practice are integral and inseparable and must be linked throughout the various steps in the [research] process," Grady said.
Grady also discussed "team science" as a growing trend that promotes translational thinking and methods. Team science focuses on working together and collaboratively across other disciplines to accomplish a common goal. Grady commended UW's Institute of Translational Health Sciences for collaborations performed with the Foster Business School. Incorporating the business community, Grady explained, can offer ways to streamline, analyze, and deliver data in helpful and strategic ways.
Ph.D. Program Celebrates 30+ Years of Education
The Ph.D. program is celebrating the beginning of its fourth decade this year! As one of the very first and finest programs, the School of Nursing's Ph.D. program has distinguished itself through its faculty, students and curriculum. Keep on the lookout for more information about events celebrating this important milestone and ways that you can get involved in the future of the School of Nursing's Ph.D. education.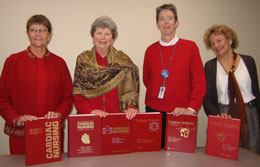 Textbook editors, from left: Susan Woods, Sandy Motzer, Liz Bridges and Eleanor Bond.

Cardiac Nursing Editors Celebrate 6th Edition
Susan Woods, associate dean for academic programs, celebrates the Oct. 2 release of the sixth edition of her award-winning book, Cardiac Nursing, an important nursing textbook that provides the latest perspectives on cardiac disease and its management.

This well-recognized text has earned a reputation as "The Red Book" and is indispensible to nurses caring for patients with or at risk for cardiac disease. Woods is co-editor with School of Nursing colleagues Sandy Motzer, associate professor emerita, Liz Bridges, associate professor, and Erika Sivarajan Froelicher, professor at the University of California–San Francisco. Other UW contributors include Gaylene Altman, Eleanor Bond, Bob Burr, Susanna Cunningham, Carol Jacobson, Laurie Soine and other clinical faculty.