Assistant Professor Shares Stories of Life in Afghanistan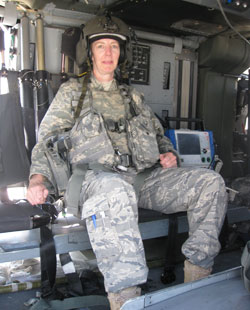 U.S. Air Force nurse Liz Bridges
BNHS Assistant Professor Liz Bridges recently returned from deployment as an Air Force nurse in Bagrham, Afghanistan. Throughout her six-month deployment, Liz shared stories and updates about her experiences and the work that she and her fellow nurses and doctors were performing for troops in the area. Read a few of her dispatches:
May 30, 2009
Subject: Hat for the Tea: Greetings from Afghanistan
I just got back from a small forward operating base (FOB) Salerno (originally an Italian base), which is in the Khowst province on the border with Pakistan. Very interesting to be able to see the topography on the way down and back—we flew over Kabul on the way home (much smaller than I thought). Here are a few photos of a shopping expedition—I found a hat for the spring tea and then for whatever reason we were playing dress up—the vendor kept bringing out things to model. At night on the base there is zero outdoor lighting—so the stars were absolutely spectacular.
The base hospital would be considered a very small community hospital with limited subspecialties—yet they see very severe trauma and can boast for the past year a 100% survival rate for U.S. casualties and 98% for all others if they make it to their doors—so we are going to see if we can capture what it is that they and the MEDEVAC teams who fly out to pick up the patients are doing so well. I ran into a UW grad at the hospital—Major Crespo—she worked with Sue Woods and Marie Cowan—she said she did a paper on circadian rhythms.
So here are a few photos of our shopping expedition—and a couple of scenery shots from the front door of my house—sunset and a beautiful crescent moon. See photos (pdf file).
Hope all is well and the year is wrapping up well. Hellos to all.—Liz
-------------------------
April 29, 2009
I am just back from a trip to one of our forward operating bases (FOBs) on the Pakistan border—and came home to find the wonderful box from the department et al. It really made my day—a bit like Christmas—a heartfelt thanks to everyone —I will share the snacks with my office mates (and yet one more reason I will now need to go to the gym every day!)
I have been visiting with all the different medical units—had a chance to spend time with a MedEvac unit (they fly the rotary wing evacuations)—what an incredible group of men and women—they go directly into the combat zone to evacuate wounded/ill—they (the medics and the pilots) spent hours telling me their stories and ideas—it was a privilege to meet them (and they took me on a tour of all the helicopters—I was a bit of a kid in a candy store)
While we were on the FOB a USO tour came through—so check out a few of the stars on the tour—the high point was meeting Tommy Lasorda—he told me I should never give up on trying to make general—what a hoot. See photos (pdf file).
All is well here—a beautiful spring day.—Liz
----------------------------
April 8, 2009
I have finally arrived in Afghanistan—certainly different from Iraq.
Our base is in a bowl at 5,000 feet—completely surrounded by mountains—the Hindu Kush that look much like the Rockies— very rugged and beautiful. I am living in a B-Hut—a plywood structure—I have 1/4 of a building—so a 10x12 room, which is more than adequate and the bathroom/shower is only about 2 minutes away. I am trying to inject a small amount of color into the room—went to the Afghan bazaar today and bought a pretty blanket—so that should spiff it up a bit. I think I can become pathologic trying to keep the dust to a minimum—something to keep me amused. There are four nice gyms on base, five dining halls, a movie theater (and my office has movies at least three nights a week) and two little PXs. I have been to the hospital—very modern. We care for both our soldiers and also local nationals—so very different types of care. See photos (pdf file).