Alumni News
Alumna Shares Nursing History of Washington State at Centennial Celebration
Marjorie DesRosier, '79 M.N., '93 Ph.D., gave the keynote presentation at the Nursing Centennial in Washington State celebration on April 15 at the University of Washington-Tacoma. As the lead speaker, DesRosier's presentation was titled Perspectives on the History of Nursing in Washington State. The centennial event celebrated the opening of the Washington State History Museum exhibit: Nurses at your service: A Century of Caring. The exhibit was on display through July 15.
Faculty Member & Alums Receive Top Honors from the American Academy of Nursing
Basia Belza, the Aljoya Endowed Professor in Nursing in the department of Biobehavioral Nursing and Health Systems was honored with Fellowship in the American Academy of Nursing at the group's annual meeting in November. Belza was acknowledged for her considerable contributions to interdisciplinary collaboration in the areas of physical activity, fatigue, and older adults.
Two School of Nursing alumni were also inducted into the American Academy of Nursing as Fellows; Gladys Campbell, '75 B.S.N. and Richard Henker, '93 Ph.D. Campbell is the executive director of the Northwest Organization of Nurse Executives (NWONE). Henker is an associate professor and vice chair in the Department of Acute and Tertiary care in the School of Nursing at the University of Pittsburgh.
This very prestigious honor recognizes nurses whose careers have made a difference at the national level in nursing and in the health of others. For more information on fellowship, visit the AAN Web site.
Panelist Nancy Ostrander, '58, far left, reflects on her experiences as a Harborview resident.

Harborview Tea and Tour Event Wrap-up
The School of Nursing invited alumni and donors to explore Harborview Medical Center with a Tea and Tour event on Aug. 19. In addition to touring Harborview's new spaces (including the new 9th & Jefferson and Maleng buildings), attendees got a chance to catch up with former classmates and friends and enjoyed a panel session celebrating the past, present and future of nursing at Harborview. Panelists included SoN alumnae Kimberly McNally, '83 M.N. former member of the Harborview board; Cindy Hecker, '80 B.S.N. and chief nursing officer of Harborview Medical Center; and Nancy Ostrander, '58 B.S.N.; as well as Harborview Executive Director Eileen Whalen and School of Nursing Dean Marla Salmon.

The event also included the unveiling of a plan to commemorate the legacy of Nursing at Harborview Hall. The hospital has been selected to commission a public art project to honor the work of the many nurses who have studied and served at Harborview over the years.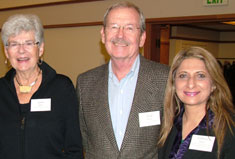 Janet and Daril Hahn, at left, with Gulrose Jiwani, the Hahn Endowed Fellowship recipient.
Annual Scholar & Donor Recognition Wrap-up
The UW School of Nursing held its annual Scholar and Donor Recognition Reception Oct. 27 at the UW's Center for Urban Horticulture. More than 75 students and scholarship donors were present to acknowledge the importance and impact of student support. The program included vignettes from several student speakers who expressed how much their scholarships meant to them.
Kate Rosellini, left, and daughter Mary Ann Flynn
Attendees also heard from special guest, alum and donor Kate Rosellini '38 B.S.N. Joined by her daughter, Mary Ann Flynn, Kate shared her reason for establishing a scholarship in the School of Nursing. Kate Rosellini benefitted greatly from philanthropy. As she recalled that evening, a $100 gift from an anonymous benefactor made it possible for her to complete her B.S.N. program in 1938. Kate never forgot this act of kindness and support and, as a result, recently established a scholarship for nursing students: the Kate Norman Rosellini and Leo John Rosellini, M.D., Endowed Scholarship in memory of her husband.