Soule Lecture to Focus on Global Workforce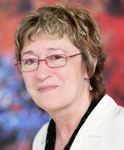 Barbara Stilwell*
Barbara Stilwell will present the 29th annual Elizabeth Sterling Soule Endowed Lecture on Feb. 19, 2009. Her talk, The Global Health Workforce and the State of our Health: A Cause for Concern, will focus on how the state of our health care workforce relates to improved care, and the impact of migration on health delivery systems in the developing world. Stilwell brings a wealth of experience and knowledge to this yearís lecture. Her extensive work directing a health delivery project in southern Sudan and her various positions at the World Health Organization as well as extensive work internationally provide a strong background for her passion and commitment to those working in global health care delivery.
Stilwell is currently a senior technical advisor for workforce policy and planning at the Capacity Project in Chapel Hill, N.C., directly linked to the Liverpool Associates for Tropical Health in the United Kingdom. A global initiative fund sponsored by the United States Agency for International Development, the Capacity Project is designed to help developing countries build and sustain their health workforces to respond to global health challenges. From 1998Ė2006, Stilwell worked at the World Health Organization in Geneva, in health systems development, with a particular focus on workforce strengthening. She was one of the principal authors of the World Health Report 2006. She has worked at various agencies in the United States and internationally, including working as an adviser to the British Council in Jordan and South America, the Caribbean, and in Eastern and Central Europe.
She holds masterís and doctorate degrees in philosophy, and an additional masterís degree in development management.
Established in 1979, the Elizabeth Sterling Soule Endowed Lecture honors the founding dean of the UW School of Nursing. It is an annual presentation featuring prominent nursing and health care leaders and is supported through the Elizabeth Sterling Soule Endowed Fund.
*Photo by Justin Hession