Note from the Dean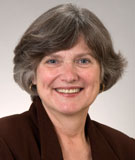 Dean Marla E. Salmon
It is a pleasure to launch our schoolís first e-newsletter! There is much to share and itís great to have a way to reach even more of you through a medium that allows us to give you an up-to-date sense of our ďbreaking news.Ē For me, though, itís more than all of this—itís really about the opportunities to encourage, maintain and shape the important partnerships that we have with our alumni family, friends and larger community.
The work of caring—and its future—calls on all of us to work together across boundaries, sectors, generations and viewpoints. This means that we need to be connected in ways that build common understanding and a sense of ownership for the work that we share.
As a new dean, I particularly welcome this opportunity to connect and continue to build on the wonderful partnerships that are already in place—and I look forward to those that will undoubtedly emerge as we move forward in our common direction: the future of caring.
Please share your own news and ideas for this newsletter ... and thank you for being a part of our network!
Best,
Marla E. Salmon, ScD, RN, FAAN
The Robert G. and Jean A. Reid Endowed Dean in Nursing
Professor, Psychosocial and Community Health, and Global Health