New Scholarships to Increase Graduate Entry Nursing Enrollment
The School of Nursing has received one of the first grants from the Robert Wood Johnson Foundation's New Careers in Nursing Scholarship Program to award scholarships to increase the number of students enrolled in the UW's accelerated graduate entry nursing program.
This new initiative, launched by RWJF and the American Association of Colleges of Nursing, aims to help alleviate the nation's nursing shortage by expanding the pipeline of students in accelerated nursing programs. The school will award eight $10,000 scholarships to help recruit students of underrepresented backgrounds. It also allows the school to expand baseline graduate student enrollment by eight students, from 24 to 32.
The scholarships will be awarded in the summer of 2009.
Zierler Named RWJF Executive Nurse Fellow; Uses Simulation Tools to Forge Team Approach to Health Care Education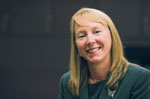 Brenda Zierler
Brenda Zierler, associate professor and associate dean of Technology Innovations in Education and Research, is one of 20 nurses chosen nationwide as a 2008 Robert Wood Johnson Foundation Executive Nurse Fellow.
As a fellow, Zierler will create the infrastructure for simulation-based team training for health professional students at the UW, with the goal of improved patient safety and quality improvement. Her project aims to mimic real-life health care teams by bringing different health professions students together in the simulation lab to hone practical as well as communication and decision-making skills.
Read the full news release: www.son.washington.edu/about/Zierler_ExecNurseFellow.asp
Voss Named a RWJF Nurse Faculty Scholar; Discovers New Method to Ease Fatigue in HIV Patients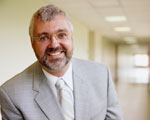 Joachim Voss
Joachim Voss, assistant professor in biobehavioral nursing and health systems, is one of only a handful of junior level nursing faculty nationwide to receive the Robert Wood Johnson Foundation inaugural Nurse Faculty Scholar Award.
The three year, $350,000 grant will support Vossí research in managing fatigue in HIV patients and improving the treatment and care of patients battling terminal illness. This award program aims to develop junior faculty into nursing leaders of the future.
Read the full news release: www.son.washington.edu/about/VossPressRelease.asp
School to Host CCNE Reviewers
The School of Nursing will host a team of reviewers from the Commission on Collegiate Nursing Education (CCNE) from April 20-22, 2009, as a part of the process of our 10-year re-accreditation. Written third-party comments about the Bachelor of Science in Nursing, Master of Nursing, Master of Science, and Doctor of Nursing Practice programs at the UW School of Nursing will be received by CCNE until 30 days before the scheduled visit. You are invited to submit your written comments directly to CCNE at:
Commission on Collegiate Nursing Education
One Dupont Circle, NW Suite 530
Washington, D.C. 200036-1230
Bridges and Thompson Named AAN Fellows
| | |
| --- | --- |
| | |
| Hilaire Thompson | Elizabeth Bridges |
Elizabeth Bridges and Hilaire Thompson, both assistant professors in the Department of Biobehavioral Nursing and Health Systems, were inducted as Fellows into the American Academy of Nursing during the academy's 35th annual meeting and conference Nov. 8 in Scottsdale, Ariz.
Being named an AAN fellow is a distinguished honor that goes to individuals who contribute significantly in healthcare and who influence policies that improve lives throughout the community.
Bridgesí research areas are critical care in distinctive and severe environments and hemodynamic monitoring. She teaches the critical care nursing seminar and serves as a consultant for military nurse researchers.
Thompsonís research interests include geriatrics, translational research and traumatic brain injury. She recently received awarded a Claire M. Fagin Fellowship to study traumatic brain injury. Thompson teaches the adult acute care practicum in the undergraduate nursing program.