Andrea Myers Named New Assistant Dean for Advancement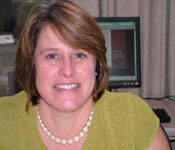 Assistant Dean Andrea Myers
Andrea Myers is the new assistant dean for Advancement (formerly Development and Alumni Relations) at the School of Nursing, joining the school on Oct. 28. She has more than 20 years experience in leading comprehensive fundraising, resource development and external relations programs within academic and community medical centers and community organizations. As part of UW Medicine for the last four years, Myers has led advancement efforts for Harborview Medical Center and UW Medical Center. Before that, she was director of development for Swedish Medical Center for more than eight years. Myers has a deep interest in facilitating and supporting health care and resources for people from all walks of life.
A message from Andrea Myers:
I am honored and excited to join the team of at the UW School of Nursing. After many years of fundraising for academic medical centers and community hospitals, I am thrilled to move to the next level: working closely with Dean Marla Salmon, the faculty, donors, volunteers, staff and students to advance nursing locally, regionally and globally. As the number one nursing school, we have an obligation—and an opportunity—to lead the future of caring. In this rapidly evolving world, we all are looking for opportunities to share resources, collaborate and partner with other public and private organizations for the greater good. And as times change all around us, we can be sure of one thing: the world needs nursing more than ever. I look forward to getting to know all of you. Please contact me at myersakm@u.washington.edu.
—Andrea K. Myers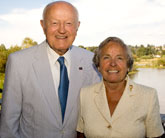 James and Betty McCurdy

McCurdys Honor Woods with Gift to School

Betty, '49, and James, '45, McCurdy recently made a gift of $50,000 as a tribute to Dean Emeritus Nancy Woods, creating the Betty B. and James G. McCurdy Endowed Fellowship. That gift, paired with another McCurdy fellowship, generated $50,000 in matching funds through the Students First initiative as well as a separate $25,000 match through The Graduate School.

Virginia Mason Creates New Nursing Professorship

Virginia Mason Medical Center has established a new term professorship in nursing with a focus on nursing leadership. The professorship was created with a gift of $75,000 payable over five years. The first recipient of the professorship has not yet been named.

Alumna Etablishes Charitable Trust

School of Nursing alumna Lorraine Troop, BSN '40, has established a $100,000 charitable remainder trust to be used at the discretion of the school's dean. Troop has been a supporter of the school since 1990.

Faculty-Staff-Retiree Campaign for Students Continues

School of Nursing faculty, staff and retirees have established 22 funds to support students through the UW's Faculty-Staff-Retiree Campaign for Students.

The initiative was launched in May 2005 to match donations by UW employees and retirees up to $10,000.

Campus-wide, the campaign has raised more than $9.2 million in endowed student support. The campaign continues through Dec. 31. For about $41 per paycheck, University employees and retirees can create an endowed scholarship in their own name or in honor of someone else. A minimum donation of $5,000 can be paid over five years and qualifies for a 1:1 match by the university up to $10,000. For more information, contact Chris Miller in nursing Advancement: chrismil@u.washington.edu or 206-221-7674.