"Photographic Finds in a Time of Transition" now on display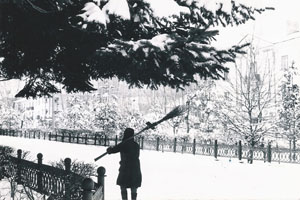 Get a glimpse of life along Russia's Pacific coast with "Photographic Finds in a Time of Transition," on display through July 23 in the Allen Library North Lobby.
The photos were shot by Georgy Pakin, who served as staff photographer for the leading daily newspaper of Nakhodka, Russia, from 1978 through 2008.
Pakin's photographs of Nakhodka, a port city of 160,000 residents, range from the orthodox (such as visits to Nakhodka by top-ranking Soviet officials and foreign delegations, public parades on state holidays, and the activities of the Nakhodka fishing fleet) to the intimate, critical and sometimes iconoclastic (school children at play, workers on strike, a street beggar, cows taking over an urban road, Nakhodka during a flood).
The exhibit is sponsored by Bellingham Cold Storage-Profish Inc. and the Bay of America Club, an association of the former American directors of MRC's Nakhodka office.
June 2013 | Return to issue home