Cyndi Asmus to retire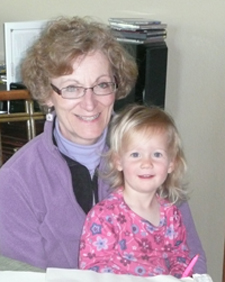 Winter 2013 marks a significant milestone in the Libraries' history, as we bid a fond farewell to Cyndi Asmus, director of advancement. Cyndi (pictured with her granddaughter Hazel) will retire in February and move to Walla Walla to be closer to family, including (and most importantly) her two fabulous granddaughters.
Cyndi joined University Libraries in May 2003, coming to us from UW Bothell, where she held a similar position. Working with Libraries leadership, Cyndi set ambitious goals for Advancement, with a focus on supporting and expanding our excellent collections and services, including adding more than 50 new endowments.
During Cyndi's tenure, we created many new events and programs that now constitute some of our fondest traditions, including the Dean's Circle Dinner, Literary Voices, and the Outstanding Volunteer Service Award. With Cyndi's talent for connecting people to projects they care about, the number of donors and friends who participate in Libraries events and programs continues to grow.
Cyndi has been a gracious and highly successful leader for our Advancement efforts; during her tenure, we consistently exceeded our fundraising goals. During Campaign UW, which concluded in 2008, we exceeded our campaign goal by 26%, raising more than $11 million for Libraries programs and collections. Even during the economic downturn, we continued to thrive, thanks to our generous donors and to the dedication of Cyndi and her team.
Leaving a place better than you found it is one measure of success for a leader – Cyndi has certainly done that, and we will be forever grateful. Please join me in wishing Cyndi happiness in retirement and thanking her for her stellar service to the Libraries and the University.

Jan. 2013 | Return to issue home