Meet Tania Bardyn, Health Sciences Library Director
Tania Bardyn joined the UW Libraries as Associate Dean of University Libraries, Director of the Health Sciences Library, and Director, National Network of Libraries of Medicine (NN/LM) Pacific Northwest Region on Nov. 7, 2011.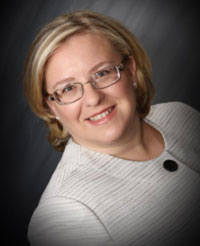 Tania Bardyn
She is an accomplished leader in health sciences libraries specializing in client-centered services, library facilities redesign, support for translational research, data-driven planning, evidence-based patient care, and public access to research findings. Tania has a solid record of leading successful innovations in library services and in developing effective multidisciplinary collaborations. She is widely published in both library management and health sciences journals, and is a frequent presenter at conferences. Most recently, she and two colleagues presented at the Medical Library Association on a very timely topic: Perceptions of data needs, data skills and library roles: a focus group for translational researchers.
Bardyn comes to us from the Louise M. Darling Biomedical Library, University of California Los Angeles where she was the Associate Director for Public Services. Tania held a variety of positions of increasing responsibility at the University of Texas Health Sciences Center (San Antonio) from 1996-2004. From 2004-2008 she served as Assistant Director, Affiliated Libraries at New York University Medical Center during which time she also served for a year as the acting Network Coordinator of the NN/LM Middle Atlantic Region.
Tania received her B.A. with honors in Political Science and Economics (1993) from Queen's University (Kingston, Ontario) and her M.S. in Library and Information Science (1996) from the University of Western Ontario (London, Ontario). She is a National Library of Medicine (NLM)/Association of Academic Health Sciences Libraries (AAHSL) Leadership Fellow (2010-2011) and a Member, Distinguished Level, Academy of Health Information Professionals.
In response to her appointment as associate dean and director, Tania commented, "I am delighted to join the librarians and staff at the University of Washington Libraries. I look forward to working with them to measurably improve the quality of education, research, and healthcare at UW and in the NN/LM Pacific Northwest Region."