Rewarding Undergraduate Research
Each year, undergraduates submit research papers to be judged on the basis of exceptional depth or breadth in the use of library resources, ability to identify, locate, select, evaluate and synthesize library resources, and demonstration of significant personal knowledge in the methods of research and inquiry.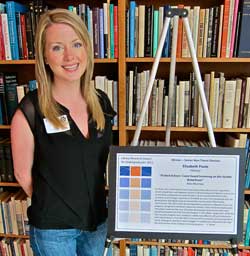 Elizabeth Poole
This year, history major Elizabeth Poole is a Library Research Award for Undergraduates winner in the Senior Non-Thesis division for her paper, Pushed Ashore: Coast Guard Screening on the Seattle Waterfront.
Poole's paper "examines the lives of Seattle dockworkers and seamen who were disenfranchised by the Port Security Program in the 1950s," and argues that, "while the Port Security Program was created as a deliberate effort to sift out Communist and radical laborers from the West Coast maritime economy, pre-existing ethnic, racial, ideological and inter-union struggles in Seattle were played out through the mechanisms of the Federal screening program."
Along with Poole, other winners are: Matthew King, Geoffrey Morgan, Zachary Smith, Steffani Bennett, Adam Farley, Peter Wu, Brian Hardison, and Helen Elizabeth Olsen. Honorable mentions went to Brandon Paul Weaver, Ashley Parcellis, and Danielle Newcomer. Awards were made possible by the Libraries Paul G. Allen Endowment, the Friends of the Libraries and the UW Alumni Association.
To find all of the research papers, go to http://guides.lib.washington.edu/researchaward/
* Photo by Curtis Cronn