Headlines Project Preserves Newspapers for the Future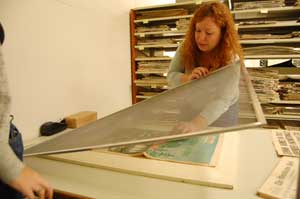 Grad student April Martin places an old newspaper under a screen in preparation for steaming and flattening.*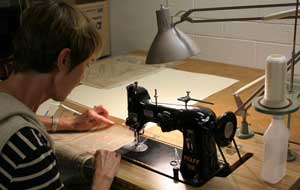 Volunteer J.P. Brigham sews protective sleeves for pages.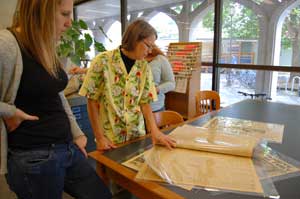 UW senior Brittany Fleming, left, and Glenda Pearson read the preserved and sleeve-protected newspapers.*
What happens to print newspapers in a time when many students get their news online? If content from a newspaper is available on microfilm, why should we care about preserving the original format?
Glenda Pearson, head of Libraries Microforms and Newspapers (otherwise known as MicNews) began the Headlines Project in 2005, to ensure that newspapers from a selection of historical events can be handled and read, almost as they were when they were printed and delivered to front doorsteps decades ago – while eliminating the possibility of further deterioration.
These papers are used in classes with students of history and communication at UW. Some students may be handling a newspaper for the first time. The medium can add context to the message in a way that microform cannot.
After Pearson and Libraries staff identified approximately 200 front pages or sections of newspapers, the mendery worked with Pearson's students to set up a process for flattening the papers, most of which had been stored in traditional folded sections.
A clothing steamer is used to relax the paper fibers where folded, the papers were gently flattened by hand, then pressed between blotters and under boards to get each sheet as flat as possible, then housed in archival polyester sleeves created by the Libraries Mendery.
Students and researchers in the MicNews area in Suzzallo Library may browse through flat files to see and handle examples from around the world.
* Photos by AC Petersen