Exhibits
In His Own Words: The Life and Work of César Chávez
Thirty-eight photographs paired with excerpts from César Chávez's dynamic speeches, interviews and authoritative writings in both English and Spanish document the full course of his remarkable career and examine the life experiences and philosophical influences that drove him to dedicate himself fully to improving the lives of American farm workers.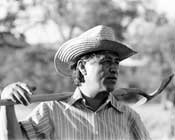 César Chávez at work in the community garden at La Paz in Keene, Calif.
The exhibit and related activities are sponsored by a partnership of the UW Department of Communication, Simpson Center for the Humanities, American Ethnic Studies, the Harry Bridges Center, Labor Archives of Washington State, UW Libraries Special Collections and Humanities Texas.
UW Activists and the Farmworkers' Movement
These supporting exhibits, curated by Labor Archivist Conor Casey and History Librarian Theresa Mudrock, illustrate the influence of Chávez, the Farmworkers' Movement, and UW student activists on Washington state through photographs, posters, flags and other artifacts from UW Special Collections. The exhibit also draws from the private collections of UW American Ethnic Studies Professors Erasmo Gamboa and Lauro Flores, and features historical photographs by Antonio Salazar depicting Chicano student activism in Seattle and the Yakima Valley. Another section of the exhibit contains photographs documenting the living and working conditions of farm workers by Irwin Nash and paintings by artist Alfredo Arreguin of Chávez and other icons of the movement.
Photo by Cathy Murphy and reprinted with permission of the César E. Chávez Foundation and Cathy Murphy