Letters Shed Light on Gen. James W. Forsyth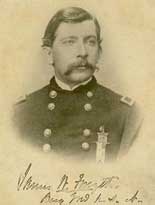 Gen. James W. Forsyth
UW Libraries Special Collections has received the papers of James W. Forsyth (1834-1906), a United States major general who had a distinguished military career during the Civil War and was Gen. Philip Sheridan's chief of staff. Prior to the Civil War, Forsyth served at Fort Bellingham and Fort Pickett in Washington Territory. After the Civil War Forsyth was involved in numerous Indian wars—including many assignments in the Pacific Northwest region—and in December 1890 he was in command of troops in the Battle at Wounded Knee in Pine Ridge, S.D., which spurred an official investigation. Forsyth was cleared of any wrongdoing, a decision that has remained controversial among historians, and he went on to serve as commander of California and, later, was promoted to major general.
In August 2010, University of Washington pathologist Melissa P. Upton donated her family's papers to Special Collections. Dr. Upton, a great-great-granddaughter of James W. Forsyth and a history major herself, hopes that the papers will be of interest to historians of military history, Pacific Northwest history, Native American history and social history.
Envelope of letter to Mrs. Forsyth, dated 1868, includes note: "Custer sentence recinded (sic)."

While a portion of the papers pertain to the Forsyth and extended families, the bulk of the collection documents and illuminates Forsyth's military career. Forsyth attended West Point, served as an official observer to the Franco-Prussian War, spent time in the Gulf of Mexico following the Civil War, and was assigned posts at various locations on the frontier during the Indian Wars. Embedded in his career, he corresponded with military leaders who are significant in our country's history: William Sherman, Philip Sheridan and Ulysses S. Grant. Also included in the papers is a letter from Elizabeth Bacon Custer (George Custer's wife).
What is unique about this collection is that Forsyth wrote more than 732 letters to his sweetheart, and later wife, Elizabeth "Lizzie" Dennison over a period of 20 years, beginning during their courtship and continuing long after their marriage in 1867. The letters, rich with detail of military campaigns and emotion at being separated from his wife, shed light on Forsyth the man, husband and father, in addition to his military exploits.
Get more information on the letters and find aid online.