From the Dean
"And now we welcome the New Year, full of things that have never been." — Rainer Maria Rilke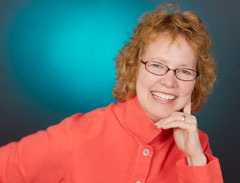 Dean Betsy Wilson
As I look forward to 2011, I am reminded of the Libraries' critical role both as the stewards of years past and as the place where future discoveries are made possible by our rich collections and award-winning staff.
Discovery is at the heart of the University of Washington. Through the decades and centuries, the depth and relevance of the Libraries collections have enabled students and researchers worldwide to create new knowledge and make groundbreaking discoveries. Our significant collections and professional knowledge and talent combine to place the Libraries at the intellectual crossroads of the community as we further our mission of "connecting people with knowledge."
This E-newsletter tells the story of discovery and connection in the Libraries through two very different collections that came by way of wise and forward-thinking donors: handwritten letters from a Civil War Army general—revealing a depth of emotion that puts a human face on a military historical figure—and an unpublished manuscript of a woman composer, a groundbreaking artist in a field dominated by men.
History, like knowledge, is anything but linear, and never ends. As the Libraries expand through purposeful purchases and often surprise donations, discoveries are waiting to be made.
Whether American history, performing arts, engineering, health sciences, or the burgeoning areas of environmental studies and human rights, the Libraries true value is realized when some curious student or esteemed scholar uncovers something new that deepens our understanding of the world around us. No doubt, the New Year will once again bring the unanticipated donation of marvelous, unique collections and the planned acquisition of significant scholarly publications. Who knows what exciting and potentially transformative discoveries will result in 2011?
I wish you and your loved ones a New Year "full of things that have never been."
Best,
Lizabeth (Betsy) Wilson,
Dean of Libraries
* Photo by Cass Redstone