Composer's Unpublished Musical Manuscript Discovered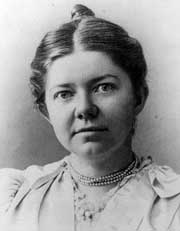 Amy Beach
A summer project to inventory uncataloged manuscripts in the Music Library resulted in the discovery of a previously unpublished two-page song, Birth, by composer Amy Beach (1867-1944).
Amy Marcy Beach, who preferred to be known as Mrs. H. H. A. Beach, was the first American woman to write a symphony and other large-scale works, including an opera (Cabildo). She composed more than 170 works; about 110 of them are songs. This prolific composer was well recognized both as a composer and a pianist during her time. During her marriage, she was focused on composing music at the request of her husband, Dr. Henry Harris Aubrey Beach (1843-1910), a surgeon at the Massachusetts General Hospital. She continued composing after her husband's death in 1910 until late in life.
Her Gaelic Symphony was premiered by the Boston Symphony in 1897 under the baton of famed conductor Emil Paur; other famous conductors, such as Leopold Stokowski of the Philadelphia Orchestra and Frederick Stock of the Chicago Symphony, also performed her symphony and piano concerto. A contemporary composer, George Chadwick, praised her symphony and called her "one of the boys," a compliment that reflected the small value society placed on women's compositions at the time.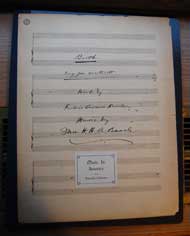 Biographer Adrienne Fried Block dates the Amy Beach manuscript to 1929.
The manuscript of this song is itself undated, but Beach biographer Adrienne Fried Block dates it 1929, putting it in Beach's third and last compositional style. The poem was written by fellow New Englander Frederic Lawrence Knowles (1869-1905), and it describes the miraculous and sacred nature of birth as an act of God. Knowles's poem was a gift from mezzo-soprano Emma Roberts to Beach in 1926 while she was recovering from surgery; it reportedly gave her comfort during a particularly difficult night.
This manuscript is part of the Hazel Kinscella Collection. Kinscella (1893-1960) was a faculty member at the School of Music from 1942 to 1958. She received a master's degree from Columbia University (1934) and studied piano with Rafael Joseffy in New York City before coming to UW, where she received a Ph. D. in 1941.
Kinscella and Beach were lifelong friends, introduced by Marian MacDowell, widow of composer Edward MacDowell, in 1918. This manuscript could have been given to Kinscella as a token of their friendship.