Harry Bridges Center Hires Labor Archivist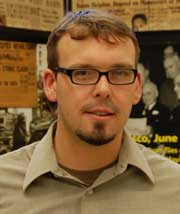 Conor Casey
Following an intensive eight month search, the Harry Bridges Center for Labor Studies, in conjunction with the University of Washington Libraries, is proud to announce the hiring of new Labor Archivist Conor Casey.
As labor archivist, Conor will oversee the development of the labor archives of Washington state, managing labor-related materials already in the UW Special Collections as well as advising unions on records management and donations. In addition, he will develop educational programs ensuring Washington's labor history is widely accessible to union members, schools and the general public.
Conor brings with him years of personal, scholarly and professional experience with the labor movement and the preservation of its history.
He first became interested in labor history through researching family history. His maternal grandfather was a striking San Francisco ILA longshoreman during the 1934 Pacific Coast Maritime strike and was later a member of ILWU Ship's Clerks Local 34. His paternal grandfather was a lifelong union electrician for IBEW Local 6, and both of his grandmothers worked as union members as well. Casey's father recently retired as a teacher and California Teachers' Association chapter president.
From 2001 to 2008, he worked at the Labor Archives and Research Center at San Francisco State University, eventually becoming archivist and visual collections curator. Accredited through the Academy of Certified Archivists, Conor holds a masters of arts in U.S. history from San Francisco State University, and a master of library and information science degree from San Jose State University.
* Photo by Melissa Ibarra