Floods Research Paper Wins Libraries' Prize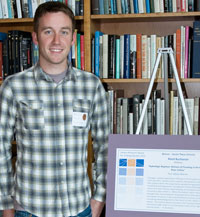 Reed Buchanan presents his research.
Reed Buchanan, UW history major, submitted a research paper "Hydrologic Regimes: Notions of Flooding in the Puyallup River Valley," and won a 2010 Libraries Undergraduate Research Award. Buchanan's Faculty Advisor is Dr. Adam Warren, History Department.
The University Libraries, in cooperation with the Undergraduate Research Program, sponsors the competition, which recognizes UW students who produce significant inquiry requiring use of information resources, the library and its collections.
The awards are funded through the generosity of the Friends of the Libraries and the Libraries Allen Endowment. See more award-winning students and topics.
Through a careful examination of floods in the Puyallup Valley in 1933 and 1977, and the social, cultural and economic changes that connect them, Buchanan's essay traces a gradual progression from completely anthropocentric conceptions of man pitted against nature to a more holistic understanding of the natural world and humanity's place within it. While this holistic notion remained wrought with misconceptions and guided by an anthropocentric conception of nature, it demonstrated Pierce County residents' increasing acknowledgement of the limits to their ability to control nature. This process which occurred in the Puyallup Valley mirrored broader shifts in environmental views at the regional and national levels.
Read Reed Buchanan's award-wining paper.