Research Commons to Open in Allen Library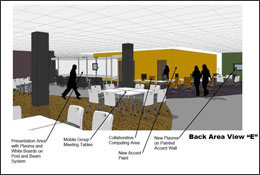 Research Commons interior
A new Research Commons, designed to meet evolving student and faculty needs that are emerging with the growth of data-driven research, digital scholarship and interdisciplinary studies, is slated to open at the beginning of autumn quarter.
Thanks to UW Capital Projects funding, the re-defined space on the ground floor of the Allen Library will feature collaborative areas in which students and faculty can come together and share research in a technology-rich environment. As the Research Commons evolves, space for the display and presentation of research will be provided.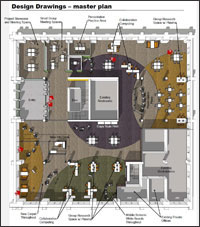 Research Commons master plan
Services that support student and faculty research will be developed in the space, including workshops on conducting a literature review, dissertation development, copyright, open access publishing and grant funding.
Through partnerships with other campus organizations, students and faculty will find a space in which they can receive support on questions regarding copyright, preparing for poster sessions and presentations, media literacy, grant writing and how to conduct research.
"Students will find a welcoming environment where they will have all the tools for research in one place," said Lauren Ray, Research Commons librarian. "In addition, the flexible spaces and moveable furniture will add to the collaborative and interactive feel of the Commons."
A Virtual Research Commons will also be developed as an online space that will help support and propel student and faculty research, while enhancing community partnerships.
To learn more, visit the Research Commons blog.