UW Libraries Student Employee Scholarship Awards
Read the essay that helped Ariel Deardorff win a 2010 UW Libraries Student Employee Scholarship:
As a student in the Microforms and Newspapers department of Suzzallo Library I spend a considerable amount of time thinking about newspapers. Before last summer, however, I had
never really considered what went into researching the content of those papers, or what it really means to be a journalist in so many parts of the world where information is heavily guarded. In
the summer and fall of 2009, I had the chance to explore these issues through a research project that culminated in a library display. The project—which was led by librarian Glenda Pearson and researched by myself and two other students—was about the hazards of contemporary journalism, and was entitled "Dying to Tell you the Story: the Dangers of Journalism in the 21st Century."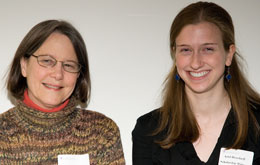 Librarian Glenda Pearson, left, and Libraries scholarship award winner Ariel Deardorff
Although I had previously heard of violence toward journalists and other members of the media, before last summer I had never grasped the terrible reality of the situation. Through my research and that of my fellow students, I learned that last year alone 76 journalists were killed, and 33 were kidnapped. So far this year six journalists have been killed (five when I started writing this essay), all because they dared to ask questions and share information. I learned about censorship and violence toward bloggers, who are targeted in internet cafes around the world. I learned which countries have the freest media (Iceland, Luxembourg and Norway) and which have the least free (Eritrea, North Korea and Turkmenistan). I also learned about the most dangerous places for journalists (including Iraq,
the most dangerous, and Iran, whose government is responsible for sending the most journalists
to jail).
Even more powerful than learning the statistics, however, was the chance to explore the stories
of individuals. During the research period I was able to follow the capture and eventual release of Euna Lee and Laura Ling from North Korea, as well as the escape of David Rohde and Tahir Ludin from Afghanistan. I also learned about those who were not as lucky, journalists such as Daniel Pearl and Afghan reporter Jawad Ahmad, who were killed because of their continual efforts to seek out and share the truth. The deaths of these journalists illustrate the violent extremes of censorship,
and reminded me how lucky I am to work in a library where freedom of information is not only protected, but celebrated.
Today hundreds of journalists are in prison, missing or dead. The dangers of this life are very real, and yet men and women around the world continue to question injustice and seek out and
broadcast information. In a letter to Mariane Pearl [Daniel's widow], a man named Pilar Wolfsteller summed up the courage of so many journalists when he wrote: "[We] can't allow violence to erase
the words we write, or the silence our voices…our voices will be heard, our pictures will be seen,
the truth will be told."
I hope our project and display have helped to amplify these voices, voices I only discovered
through my work at the library.
Other award winners are: Tiffany Bradley, Josephine Kawi, Rachel Kramer, Althea Lazzaro, Paulina Przystupa, Christopher Sundita, Jordan Walter, Nathalie Wargo and Peter Wen. The winners were selected from 75 student employee applicants and each received a $1,000 scholarship at a reception on May 6, in the Petersen Room in Allen Library. The Student Employee Scholarship Program is supported by generous donors and is administered by Libraries Organization Development and Training, and the Libraries Advancement Office.