Composing Software for Students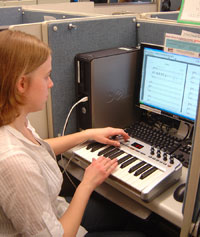 Senior Michelle McKenzie demonstrates the music composition software.




Notating a composition for one instrument or a vocalist on a page can be tedious, Michelle McKenzie, a senior in Music Composition and Music Education, explained as she demonstrated a MIDI (musical instrument digital interface) keyboard and a software program, Finale, on a computer workstation in the Music Library.

Thanks to an award from the Friends of the Libraries, the Music Library has several keyboards and workstations with the program.

When starting from scratch, a template allows the user to select time signature, key and instruments before it sets up the blank staffs on a page.

Through a MIDI in the small specialized piano keyboard, the computer screen places notes on the music staff as they are played. A standard computer keyboard can do the same thing via keyboard shortcuts. The program is especially helpful when orchestrating and arranging for multiple instruments or voices.

McKenzie, a violinist who, like a typical student of music composition, has learned piano, usually prefers "engraving" or writing her compositions with pencil and paper. But the flexibility of the software also makes it a powerful tool for teaching; certain portions of a musical score can be reformatted, e-mailed and inserted into documents. So she will definitely make use of the time-saving program.

MIDI keyboards can be checked out at the Music Library desk, and are linked to the computer via a simple USB interface. The program is used frequently by students in the Music Library, adding to the services and tools for students and faculty.