Flickr Commons: UW Libraries Digital Collections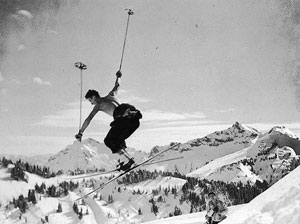 Skier making a cornice jump near Edith Creek, southeast slope of Mount Rainier, date unknown. More...
University Libraries Special Collections and Digital Initiatives announce the launch of a partnership with Flickr online image resource and management service with a collection of images from the Libraries on the theme of "Winter Sports in the Northwest." (View the collection.)
Additions from the Libraries collections to the Flickr commons pool are planned for the second Wednesday of each month.
The UW Libraries is only the second university library to contribute images—the first one was Oregon State. Participating institutions include New York Public Library, Smithsonian Institution, U.S. National Archives, Swedish National Heritage Board and Bibliothèque de Toulouse. See other participating institutions.
The program has two main objectives, to increase access to publicly held photography collections, and to provide a way for the general public to contribute information and knowledge
Under "The Commons," cultural institutions that have reasonably concluded that a photograph is free of copyright restrictions are invited to share such photograph under their new usage guideline called "no known copyright restrictions."
Flickr Commons was launched Jan. 16 2008, when Flickr released its pilot project in partnership with The Library of Congress.
* Photo by Dwight Watson