Exhibits: Creation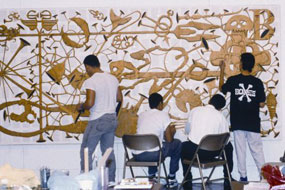 Tim Rollins and K.O.S. Workshop for Amerika IX, 1987. Mint Museum of Art, Charlotte, North Carolina.
Creation
Allen Library, 1st floor balcony
Feb. 25-May 31
Creation is a collaboration of 60 "voices" by Tim Rollins and K.O.S. (Kids of Survival) done in 2004 during a residency at Pyramid Atlantic in Washington, D.C. Students from the D.C. metropolitan area also participated. The resulting portfolio of seven screenprints with digital chine-colles and watermarks is based on Franz Josef Haydn's, The Creation oratorio of 1798.
Also involved in the actual creation of the portfolio were master printmaker Pepe Coronado and master papermaker Mary M. Ashton. The portfolio was issued in an edition of 25 copies; this is number 11 and is on loan from Mary M. Ashton for the duration of the Frye Art Museum Exhibition; it was curated by Sandra Kroupa, Book Arts and Rare Book Curator, Special Collections.

This exhibition is to complement Tim Rollins and K.O.S.: A History currently on exhibit at the Frye Art Museum, Seattle, Jan. 23- May 31.
About the Frye Art Museum Exhibition:
The Frances Young Tang Teaching Museum and Art Gallery at Skidmore College organized this major survey exhibition of the work of Tim Rollins and K.O.S. The exhibition examines the unique collaboration between Rollins, an artist, activist and educator, and the Kids of Survival (K.O.S.), a group of artists originally made up of Rollins's special education students from Intermediate School 52 in the South Bronx. The exhibition presents over 25 years of work collaboratively produced by Rollins and his students from the Bronx and from workshops conducted nationally and internationally. Based on literary texts, musical scores and other printed matter, these works comprise one of the most celebrated and controversial art projects of the past quarter century.